Recipe:
California Walnut "Chorizo" Burrito
Yield:

4 servings

Total Time:

35 minutes
Description
Flour tortilla burrito with "chorizo" walnut meat, cilantro lime rice, Mexican cheese blend, pico de gallo, avocado and shredded lettuce finished with cilantro cream and tomatillo salsa.
Ingredients
For "Chorizo" Meat
2 1/2 cups California walnuts
1 1/2 cups canned black beans, rinsed
1/2 cup vegetable oil
1 tablespoon white vinegar
1 tablespoon paprika, ground
1 teaspoon Kosher salt
1 tablespoon ancho powder, ground
1 teaspoon oregano, ground
1 teaspoon chipotle powder, ground
1 teaspoon cumin, ground
1 teaspoon coriander, ground
For Burritos
4 – 12 inch flour tortillas
2 cups California Walnut Chorizo Meat, divided
1 cup cilantro lime rice, divided
1/2 cup Mexican cheese blend, divided
1 cup pico de gallo divided
2 avocados, sliced and divided
1 cup romaine lettuce, shredded and divided
1/2 cup cilantro lime crema
1/2 cup tomatillo salsa
Instructions
To Prepare the Chorizo
To prepare the "chorizo" crumble, place walnuts and beans in a food processor; pulse until coarsely chopped.
Add 2 tablespoons oil and remaining ingredients to food processor and pulse again until mixture is finely chopped and resembles ground meat, stirring several times and moving the mixture from the bottom of the food processor bowl to the top to evenly mix.
Heat remaining oil in a very large nonstick skillet over medium heat. Add "chorizo" mixture to skillet and cook for 10 minutes or until mixture is nicely browned and resembles ground meat, stirring frequently.
To Assemble the Burritos
Heat tortillas.
Fill each tortilla with 1/2 cup of Walnut Chorizo, 1/4 cup cilantro lime rice, 2 tablespoons Mexican cheese blend, 1/2 avocado, 1/4 cup romaine lettuce and 2 tablespoons cilantro lime crema.
Roll up and pan fry in a dry pan to toast burrito and heat through.
Serve each with 2 tablespoons of tomatillo salsa.
nutrition facts
Based on 4 servings
Per serving:
Calories1010
Total Fat61g
Polyunsaturated Fat21g
Monounsaturated Fat24g
Sodium1790mg
Total Carbohydrate100g
Dietary Fiber18g
Protein25g
Calcium300mg
Iron6mg
Potassium940mg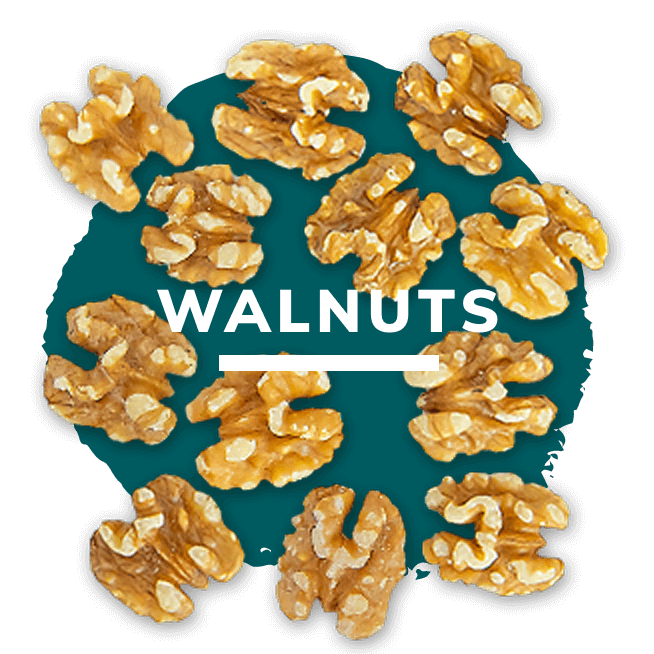 Want Facts on Walnuts?
learn more