Recipe:
California Walnut Meatless Meatballs
Yield:

4 servings

Total Time:

42mins
Description
You won't miss the beef in this healthier version of the classic Italian favorite.
Ingredients
1 tablespoon olive oil
1/4 cup minced onion
1 teaspoon minced garlic
1 tablespoon tomato paste
1/2 cup walnuts, chopped
1/4 cup cooked brown rice
1/4 cup chopped roasted red peppers
1/4 cup panko breadcrumbs
1/4 cup Parmesan cheese
1 tablespoon Italian seasoning
2 tablespoons chopped Italian parsley
1 egg, beaten
Instructions
Preheat oven to 375°F and line a baking sheet with parchment paper.
Heat oil in a small skillet over medium heat. Add onion and garlic and sauté for 1 minute. Add tomato paste and cook for 1 minute more.
Transfer to a food processor with walnuts, rice, roasted red peppers, breadcrumbs, Parmesan, parsley, Italian seasoning, and egg. Pulse until combined, but not mushy.
Form into 8 equal balls and place on prepared baking sheet. Cook for 12 minutes or until firm to the touch. Serve with California Walnut Pesto or Muhammara Sauce.
nutrition facts
Based on 4 servings
Per serving:
Calories210
Total Fat16g
Saturated Fat2.5g
Polyunsaturated Fat8g
Monounsaturated Fat5g
Cholesterol50mg
Sodium240mg
Carbohydrates12g
Dietary Fiber2g
Total Sugars2g
Protein7g
Vitamin D0mcg
Calcium90mg
Iron2mg
Potassium180mg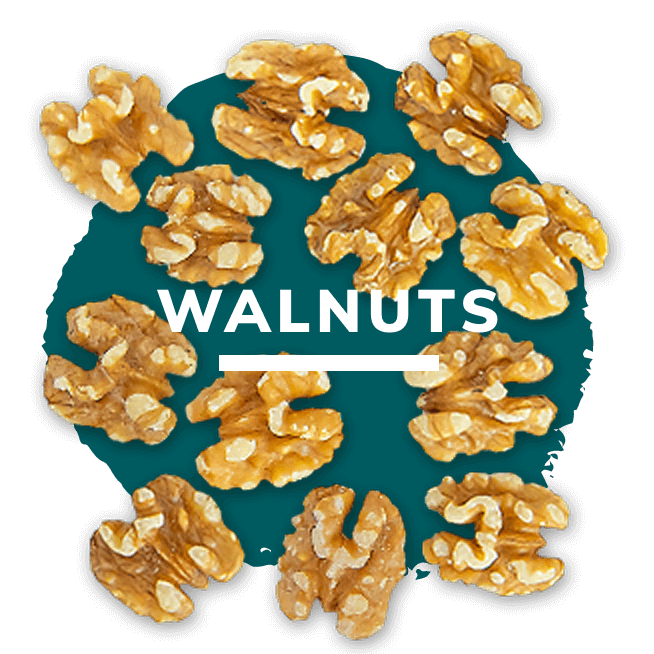 WANT FACTS ON WALNUTS?
learn more