Recipe:
Chocolate Hazelnut Coconut Butter
Ingredients
1 cup ​Oregon hazelnuts
8 ounces dark chocolate, finely chopped
4 ounces milk chocolate, finely chopped
2 tablespoons coconut oil, melted
1 tablespoon cocoa powder
1⁄2 teaspoon vanilla extract
1⁄2 teaspoon fine sea salt
Instructions
Preheat oven to 350°F.
On a medium baking sheet scatter hazelnuts. Place in the oven and bake until fragrant and the skins are blistered, 12-15 minutes. Let cool completely.
In a double boiler or a heatproof bowl set over a saucepan of simmering water, gently melt dark and milk chocolate, stirring frequently, until smooth. Take pan off heat and set aside.
In a food processor process hazelnuts until ground into a paste. Add oil, cocoa powder, vanilla, and salt and process until very smooth. Add melted chocolate and process until combined, scraping down sides of bowl as needed.
Store in an airtight container at room temperature for up to 3 weeks.
nutrition facts
Based on 20 servings
Per serving:
Calories130
Total Fat11g
Saturated Fat 5g
Trans Fat0g
Cholesterol 0mg
Sodium 65mg
Total Carbohydrate11g
Dietary Fiber2g
Total Sugars 8g
Protein2g
Vitamin D0mcg
Calcium 18mg
Iron 1mg
Potassium 64mg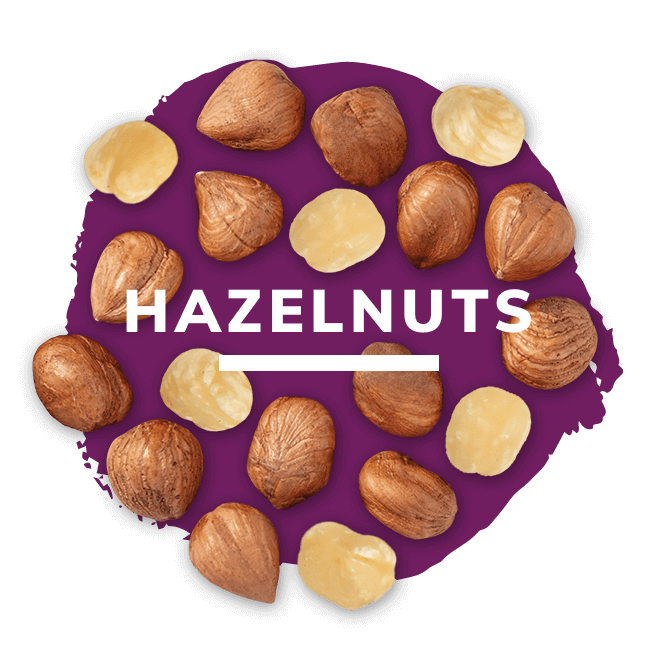 WANT FACTS ON HAZELNUTS?
learn more