Hazelnuts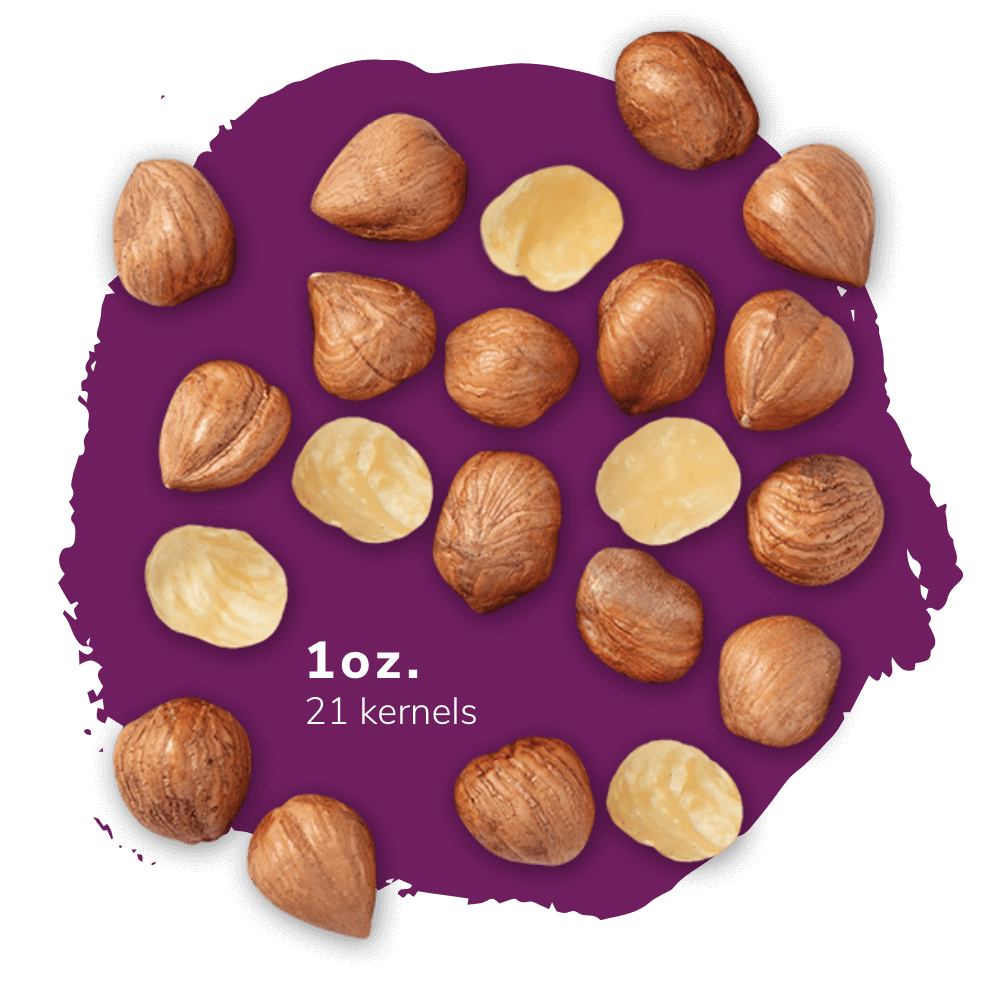 A 1-ounce serving of hazelnuts provides:
Dietary Fiber
Good source of fiber: 3 grams/11% of the Daily Value
Protein
4 grams of plant-based protein
Healthy Fats
17 grams of total fat: 76% is from monounsaturated fat and 12% from polyunsaturated fat
Nutrient-Dense
Excellent source of vitamin E, copper and manganese
Good source of vitamin B6, magnesium and thiamin
Sodium-free
Looking for tips and tricks?
HAZELNUT NUTRITION FACTS
Serving Size: 1 oz. (28.35g) Approx 21 kernels**
Amount Per Serving
Total Fat 17g

22%

Saturated Fat 1.5g

8%

Polyunsaturated Fat 2g

Monounsaturated Fat 13g

Cholesterol 0mg

0%

Sodium 0mg

0%

Total Carbohydrate 5g

2%

Dietary Fiber 3g

11%

Protein 4g
Vitamin D 0mcg

0%

Calcium 32mg

2%

Iron 1.33mg

8%

Potassium 193mg

4%

Vitamin A 1.8mcg

0%

Vitamin E 4.26mg

30%

Vitamin B6 0.16mg

10%

Phosphorus 82mg

6%

Vitamin C 1.8mg

2%

Thiamin 0.18mg

15%

Folate 52mcg

8%

Magnesium 46mg

10%

Selenium 0.7mcg

0%

Manganese 1.75mg

80%

Zinc 0.69mg

6%

Copper 0.49mg

25%
*The % Daily Value (DV) tells you how much a nutrient in a serving of food contributes to a daily diet. 2,000 calories a day is used for general nutrition advice.
**Hazelnuts are unsalted and unroasted.
History
Hazelnuts grow in clusters on the hazelnut tree in temperate zones around the world. The outer husk opens as the nut ripens, revealing a hard, smooth hazel colored shell. Depending on the area of the world, they are either hand-picked or mechanically harvested.
One of the oldest agricultural crops, hazelnuts are believed to have originated in Asia and then moved into Europe. They were taken to the U.S. by Europeans in the 1850s. Today the principal hazelnut-producing countries include Turkey, Italy, USA, Azerbaijan, and Georgia.
Also known as filberts and cobnuts, these sweet, rich, grape-sized nuts are marketed in the shell or as kernels which may be natural, roasted or further processed into diced, sliced, meal, paste or butter. Hazelnuts are mainly used in confectionery and baked goods but are increasingly being used in salads, sides, main dishes, ice cream, and as snack items.
For more information about hazelnuts, view our member page.
We're nuts about hazelnuts
Check out our videos for more nutritious tree nut recipes.
More Tree Nuts
Tree nuts are nutrient-dense whole foods that are rich in unsaturated fats and contain protein, fiber and important vitamins, minerals and phytochemicals.