Recipe:
Crunchy Hazelnut Granola Parfait
DESCRIPTION
Layered with crunchy granola, yogurt and fruit, this parfait is the perfect way to enjoy your favorite fruit!
INGREDIENTS
4 cups old-fashioned oats
1 cup hazelnuts, toasted, skin removed, coarsely chopped
½ cup wheat germ
½ cup oat bran
¼ cup crystal ginger, minced
1 cup orange juice
¼ cup sugar
2 tablespoons vegetable oil
2 teaspoons ginger, ground
1 teaspoon cinnamon, ground
½ teaspoon salt
1 ½ cups (7 ounces) assorted dried fruit, diced
16 ounces (2 cups) vanilla yogurt
2 cups fresh fruit
INSTRUCTIONS
Mix oats, hazelnuts, wheat germ, oat bran and crystal ginger in large bowl.
Whisk orange juice, sugar, oil, ginger, cinnamon and salt in small bowl until blended. Stir orange juice mixture into oat mixture until blended.
Spread mixture on greased 15½ x 10½ x 2-inch jelly roll pan. Bake at 325º F for 35 to 40 minutes, stirring occasionally, until browned and dry.
Place mixture in large bowl.
Stir in dried fruit until blended. Makes 8 cups.
To assemble parfait: Layer ¼ cup each granola mix, yogurt and fruit in parfait glass. Repeat layering.
Garnish with granola and fruit.
nutrition facts
Based on 4 servings
Per serving:
Calories180
Total Fat5g
Saturated Fat1g
Cholesterol5mg
Sodium90mg
Carbohydrates29g
Dietary Fiber3g
Protein6g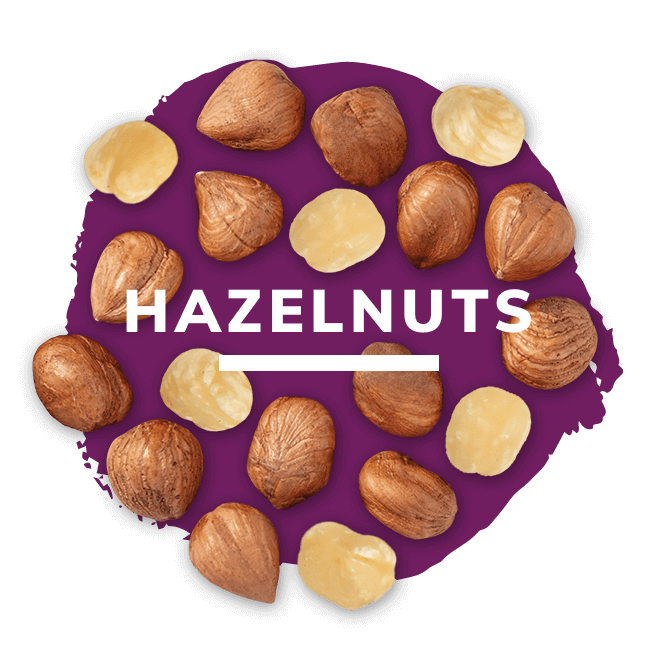 WANT FACTS ON HAZELNUTS?
learn more