Recipe:
Fiery Hot Cheddar Walnuts
Yield:

16 servings

Total Time:

20 minutes
Description
One look at the grocery store "snack aisle" will tell you that super-spicy snacks and chips are wildly popular. This recipe offers a nutritious, but just as tasty, alternative.
Ingredients
6 tablespoons White Cheddar popcorn seasoning*
2 1/2 teaspoons cayenne pepper
1 teaspoon paprika
1/4 teaspoon onion powder
1/8 teaspoon garlic powder
2 tablespoons canola oil or vegetable oil
2 teaspoons red chili pepper hot sauce
1 tablespoon water
4 cups California walnuts, in halves and large pieces
Instructions
Preheat the oven to 350°F. Get out a large, shallow baking pan. For easier cleanup, line the pan with parchment paper if you wish, though this is not essential.
In a small bowl combine the White Cheddar popcorn seasoning, cayenne pepper, paprika, onion powder and garlic powder. Whisk together until thoroughly and evenly blended. Set aside.
In a large bowl combine the oil, red chili pepper hot sauce and water and whisk together until smooth. Add the walnuts and toss until they are glistening and covered with the oil mixture. Continue tossing and stirring as you sprinkle on the cheese mixture and the nuts become coated with the seasonings.
Spread the seasoned walnuts on the baking pan. Bake for 6 minutes, and then stir the nuts with a spatula. Bake 6 to 8 minutes longer, until the nuts have browned lightly. Cool completely, then store in an airtight container.
Tip: *White Cheddar popcorn seasoning can be found in the "popcorn" section of most supermarkets. Some people can be sensitive to the heat of hot peppers and their various forms, including red chili pepper hot sauce and cayenne. Use tongs or a big spoon to toss the walnuts with the seasonings, not your bare hands, and work in a well-ventilated kitchen, particularly if you experience any discomfort in the region of your eyes or nose while blending the spicy mixture.
nutrition facts
Based on 16 servings
Per serving:
Calories190
Total Fat18g
Polyunsaturated Fat12g
Sodium340mg
Total Carbohydrate4g
Dietary Fiber2g
Protein4g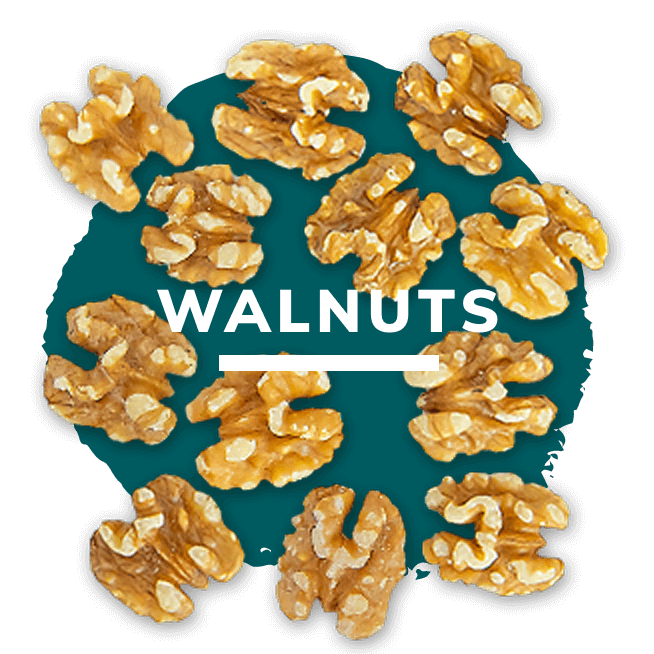 Want Facts on Walnuts?
learn more