Recipe:
Grilled Cherry and Blue Cheese Salad with Creamy Hazelnut Dressing
Yield:

6 servings

Total Time:

20 minutes
Description
This refreshing salad gets a burst of flavor from grilled cherries and roasted hazelnuts. The addition of tangy blue cheese blends beautifully with a dressing made of pureed hazelnuts and honey. Pair this salad with a crisp Oregon Riesling.
Ingredients
Dressing
1/4 cup roasted hazelnuts, roughly chopped
¼ cup grapeseed oil
2 tablespoons honey
¼ teaspoon fine sea salt, or to taste
Pinch of ground black pepper, or to taste
Salad
1 pint sweet cherries, pitted
Olive oil
8 cups mixed spring greens
¼ of a large red onion, thinly sliced
1 cup roasted hazelnuts, halved or roughly chopped
4 ounces Rogue Creamery Oregon Blue Cheese, crumbled
Instructions
Preheat the grill to 400 degrees F. Thread the cherries onto soaked wooden skewers or grilling skewers, about 4 or 5 to a skewer, and brush lightly with olive oil.
Place the dressing ingredients in a single serve blender or small food processor. Process on high or pulse in long spurts until a creamy dressing forms, about 20 seconds. Set aside.
Grill the cherries for about 5 minutes, turning at least once, until the fruit begins to darken and soften.
Add the greens and onion to a large serving bowl. Pour in the dressing and toss to coat the salad. Slide the cherries off of the skewers and arrange them evenly over the top of the greens. Sprinkle the salad with roasted hazelnuts and crumbled blue cheese before serving. Pair with: Brooks Willamette Valley Riesling.
nutrition facts
Based on 6 servings
Per serving:
Calories440
Total Fat36g
Saturated Fat7g
Monounsaturated Fat15g
Polyunsaturated Fat9g
Cholesterol25mg
Sodium410mg
Carbohydrate21g
Dietary Fiber5g
Protein12g
Vitamin D0mcg
Calcium321mg
Iron2mg
Potassium463mg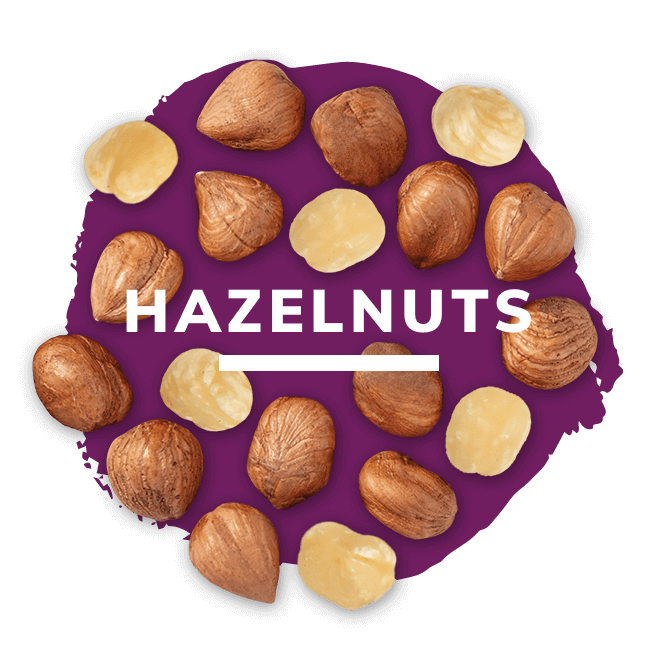 Want Facts on Hazelnuts?
learn more