Recipe:
Happy Seafood in a Lettuce Cup
Description
Recipe by celebrity Chef Martin Yan, who has traveled around the world, sharing the best of Chinese and American culture, food, and personal enrichment with multiple generations of audiences. His grand vision is shaped by more than 3,500 culinary and travel TV shows, 32 cookbooks, and several restaurants in North America and Asia.
Ingredients
Marinade:
1 tsp / 3.0 g cornstarch
¼ tsp / 1.5 g salt
1/8 tsp / 0.5 g white pepper
2 tsp / 9 g cooking oil
Seafood:
8 oz / 225 g medium raw shrimp, shelled, deveined and diced
4 oz / 115 g raw scallops, diced
Stir-fry Mixture:
2 tbsp / 27 g cooking oil
¼ cup / 20 g green onions, diced
¼ cup / 35 g water chestnuts, diced
¼ cup / 30 g carrot, diced
¼ cup / 60 ml broth, seafood, chicken or vegetarian
1 tbsp / 18 g oyster-flavored sauce
1 tsp / 5 g sesame seed oil
1 tsp / 3 g cornstarch mixed with 2 tsp / 10 g water
1/2 cup / 65 g pistachios, roasted
Assembly:
2 – 3 tbsp / 32 – 48 g Hoisin sauce
Lettuce (iceberg, butter or romaine), cut into 12 lettuce cups
DIRECTIONS
Marinade: In a medium bowl, combine ingredients.
Seafood: Add shrimp and scallops to marinade; stir to coat. Set aside for 30 minutes.
Stir-fry Mixture: Heat a wok or stir-fry pan over medium-high heat until hot. Add oil, swirling to coat sides. Add seafood; toss and stir-fry for 2 minutes. Remove seafood from wok. Add green onions, water chestnuts and carrot; stir-fry until carrot is crisp tender. Return seafood. Add broth, oyster sauce and sesame oil. Add cornstarch solution; cook, stirring, until slightly thickened. Add pistachios; toss well.
Assembly: To serve, spread a small amount of hoisin sauce in center of a lettuce cup. Add about 2- 3 tablespoons of stir-fry mixture in each lettuce cup and serve.
nutrition facts
Based on 12 servings
Per serving:
Calories100
Total Fat6g
Saturated Fat1g
Monounsaturated Fat3g
Polyunsaturated Fat2g
Cholesterol25mg
Sodium320mg
Carbohydrate6g
Dietary Fiber1g
Protein5g
Calcium22mg
Potassium130mg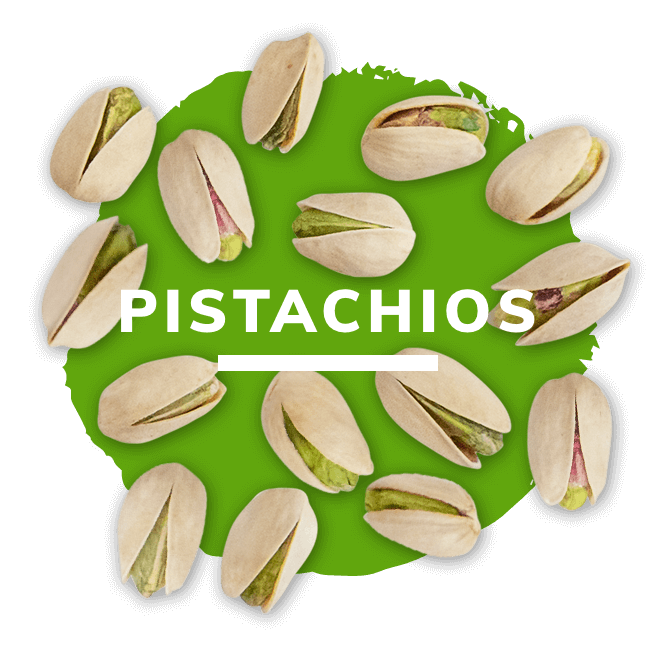 Want Facts on Pistachios?
learn more