Pistachios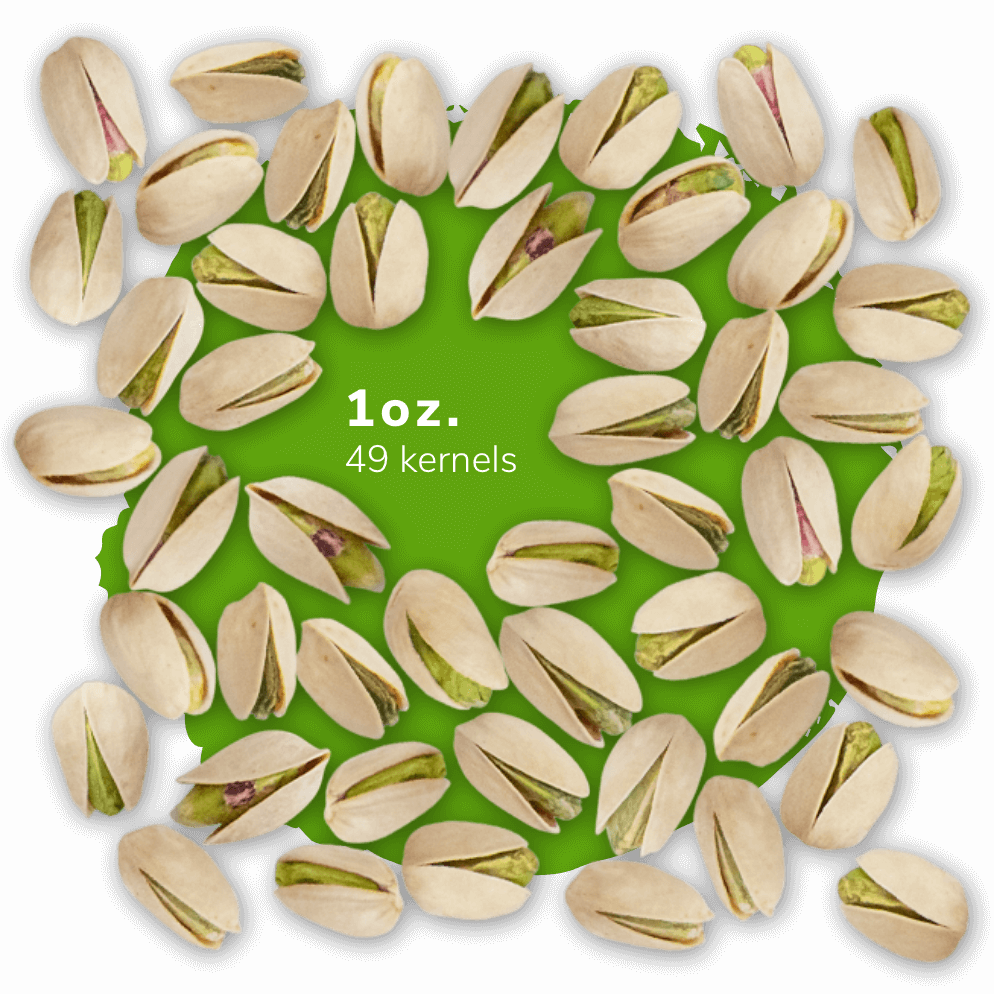 A 1-ounce serving of pistachios provides:
Dietary Fiber
Good source of fiber: 3 grams/11% of the Daily Value
Protein
Good source of protein with 6 grams of plant-based protein
Healthy Fats
13 grams of total fat: 54% is from monounsaturated fat and 31% from polyunsaturated fat
Nutrient-Dense
Excellent source of vitamin B6 and copper
Good source of manganese, phosphorus and thiamin
Great source of plant sterols
Sodium-free
Looking for tips and tricks?
PISTACHIO NUTRITION FACTS
Serving Size: 1 oz. (28.35g) Approx 49 kernels**
Amount Per Serving
Total Fat 13g

17%

Saturated Fat 1.5g

8%

Polyunsaturated Fat 4g

Monounsaturated Fat 7g

Cholesterol 0g

0%

Sodium 2mg

0%

Total Carbohydrate 8g

3%

Dietary Fiber 3g

11%

Protein 6g

10%
Vitamin D 0mcg

0%

Calcium

2%

Iron 12.4mg

2%

Potassium 285mg

6%

Vitamin A 4mcg

0%

Vitamin E 0.62mg

4%

Vitamin B6 0.32mg

20%

Phosphorus 133mg

10%

Vitamin C 0.9mg

0%

Thiamin 0.2mg

15%

Folate 14mcg

4%

Magnesium 31mg

8%

Selenium 2.8mcg

6%

Manganese 0.35mg

15%

Zinc 0.66mg

6%

Copper 0.37mg

40%
*The % Daily Value (DV) tells you how much a nutrient in a serving of food contributes to a daily diet. 2,000 calories a day is used for general nutrition advice.
**Pistachios are unsalted and unroasted.
History
With an antiquity of around 9,000 years, the pistachio is one of the oldest edible nuts on earth. Originating from the Middle Eastern countries of Iran, Syria and Greece, the pistachio belongs, like the cashew, to the family of the Anacardiaceae. The fruit of the pistachio differs from all other nuts because of its characteristic green color and the semi opening of the shell, which in Iran is called the "smiling pistachio" and in China the "happy nut." This singular morphology makes the pistachio the only edible nut that does not need to be shelled for roasting and salting, serving as its own natural "wrapping" for easy consumption. Both a male and female pistachio tree are required to produce edible nuts. Pistachios are pollinated by wind, and therefore do not require bees.
Cultivated in California, Arizona, New Mexico, Iran, Turkey, Greece, Syria and Italy, pistachios are marketed primarily in their in-shell form — roasted and salted — but they can also be purchased unsalted and shelled. California produces 98.5% of the nation's pistachios. They are mainly used as a snack, although because of their rich, buttery taste, they're perfect in salads, desserts, pasta and main dishes too.
For more information about pistachios, view our member page.
We're nuts about pistachios
Check out our videos for more nutritious tree nut recipes.
More Tree Nuts
Tree nuts are nutrient-dense whole foods that are rich in unsaturated fats and contain protein, fiber and important vitamins, minerals and phytochemicals.