Recipe:
Mini Pecan Lemon Berry Tarts
Yield:

24 servings

Total Time:

22mins
DESCRIPTION
Using 3-ingredient mini pecan crusts as your base, these light and springy lemon berry tarts are flavorful individual desserts perfect for your next gathering.
Ingredients
Mini Pecan Crusts
2 cups pecan pieces or halves
2 tablespoons sugar
1/4 cup butter, melted
Lemon Filling
1/2 cup lemon curd
1/2 cup berries (blueberries or raspberries)
Powdered sugar for dusting (optional)
Instructions
Make the mini pecan crusts: Preheat oven to 350 degrees F. Line a mini muffin tin with paper liners or spray with non-stick spray.
Add pecans, butter, and sugar to a food processor. Blend until mixture comes together to form a coarse dough.
Scoop about 2 teaspoons of the pecan mixture in each muffin tin. Use the back of a wooden spoon or your fingers to press mixture evenly along the bottom and up the sides of each muffin cup.
Bake for 12 minutes or until crusts are golden brown. Allow crusts to cool completely before removing them from pan.
Assemble crusts: Spoon 1 teaspoon of lemon curd into each mini pecan crust. Top with 1 raspberry or 3 small blueberries. Dust with powdered sugar if desired. Makes 24 crusts.
nutrition facts
Based on 24 servings
Per serving:
Calories 120
Fat 9g
Saturated Fat 2.5g
Sodium 15mg
Carbohydrates9g
Fiber 1g
Protein1g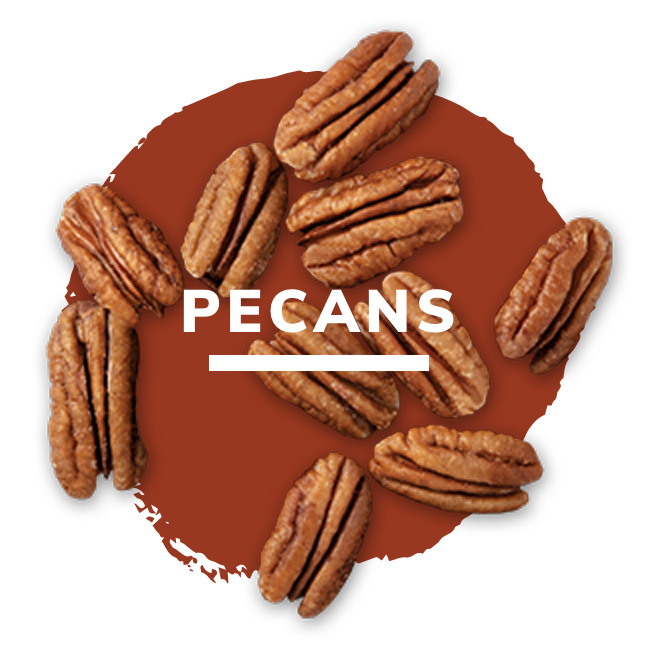 WANT FACTS ON PECANS?
learn more