Pecans

A 1-ounce serving of pecans provides:
Dietary Fiber
Good source of fiber: 3 grams/11% of the Daily Value
Protein
3 grams of plant-based protein
Healthy Fats
20 grams of total fat: 60% is from monounsaturated fat and 30% from polyunsaturated fat
Nutrient-Dense
Excellent source of copper and manganese
Good source of thiamin and zinc
High in total flavonoids
Sodium-free
Looking for tips and tricks?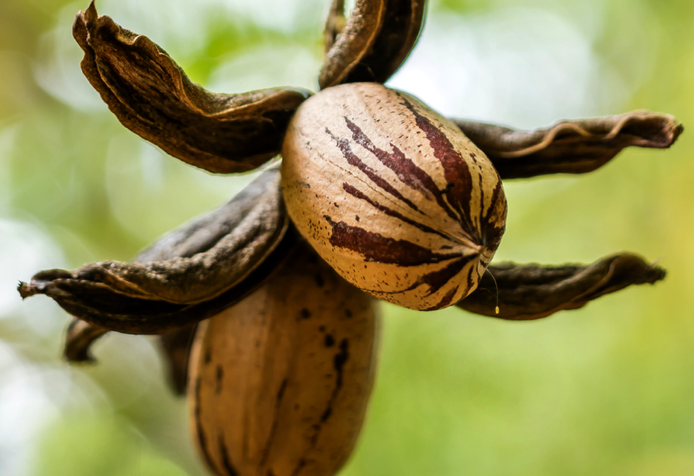 Pecan Nutrition Facts
Serving Size: 1 oz. (28.35g) Approx 19 halves**
Amount Per Serving
Total Fat 20g

26%

Saturated Fat 2g

10%

Polyunsaturated Fat 6g

Monounsaturated Fat 12g

Cholesterol 0mg

0%

Sodium 0mg

0%

Total Carbohydrate 4mg

1%

Dietary Fiber 3g

11%

Protein 3g
Vitamin D 0mcg

0%

Calcium 20mg

6%

Iron 0.7mg

4%

Potassium 116mg

2%

Vitamin A 1mcg RAE

0%

Vitamin E 0.4mg

2%

Vitamin B6 0.06mg

4%

Phosphorus 79mg

6%

Vitamin C 0.3mg

0%

Thiamin 0.2mg

15%

Folate 6mcg

2%

Magnesium 34mg

8%

Selenium 1.1mcg

2%

Manganese 1.3mg

60%

Zinc 1.3mg

10%

Copper 0.3mg

35%
*The % Daily Value (DV) tells you how much a nutrient in a serving of food contributes to a daily diet. 2,000 calories a day is used for general nutrition advice.
** Pecans are unsalted and unroasted.
History
As the only major tree nut indigenous to America, the pecan's storied past predates the founding of our country; yet, pecans have become embedded into American traditions, culture and cuisine. Wild pecans were a staple in the diets of Native Americans. Now, they are one of the few indigenous plants to have evolved into a highly coveted and internationally traded crop, with American growers producing over 80% of the world's pecan supply.
Today, pecans are the product of well-nourished soil, warm climate, strong sun, an adequate water supply, and the nurturing of passionate growers. A member of the hickory family, pecan trees take nearly 10 years to produce nuts, but can continue to produce nuts for 100 years or more. Pecans have a smooth shell, with the kernel making up 40-60 percent, and are marketed in in-shell or shelled form.
Pecans have given their distinctive flavor to many uniquely American dishes, including everyone's favorite, pecan pie. But they are delicious beyond the pie and can be used in breakfast dishes, appetizers, entrées, salads and more – especially as a nutritious snack straight from the bag.
For more information about pecans, view our member page.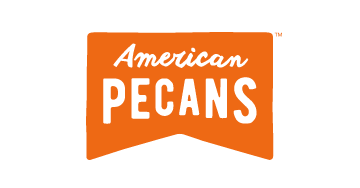 We're nuts about pecans
Check out our videos for more nutritious tree nut recipes.
More nut facts
Tree nuts are nutrient-dense whole foods that are rich in unsaturated fats and contain protein, fiber and important vitamins, minerals and phytochemicals.