Recipe:
Oregon Overnight Oats
DESCRIPTION
These individual servings of overnight oatmeal deliver a tasty chocolate treat while being loaded with healthy ingredients. Prepared in jars, it's easy to take this dairy-free breakfast to-go on a busy morning!
INGREDIENTS
1 ¾ cups Bob's Red Mill Old-Fashioned Oats
3 tablespoons chia seeds
2 cups Pacific Natural Foods Chocolate Hazelnut Milk
¾ cup fresh raspberries
¾ cup roasted hazelnuts, halved or roughly chopped
Berries and finely chopped hazelnuts for garnish
INSTRUCTIONS
Add the oats and chia seeds to a medium bowl. Pour in the milk and stir well.
Spoon half of the oats into the bottom of four half-pint jars. Divide the raspberries among the jars and then top the raspberries with an equal amount of hazelnuts. Press with a spoon to pack in the ingredients. Spoon the remaining oats into each jar and pour any milk from the bottom of the bowl into the jars. Press again to pack the ingredients.
Place a lid on the jar and refrigerate for 8 to 12 hours. Before serving, stir and top with more fresh berries and finely chopped hazelnuts.
nutrition facts
Based on 4 servings
Per serving:
Calories430
Total Fat23g
Saturated Fat2g
Monounsaturated Fat12g
Polyunsaturated Fat2g
Cholesterol0mg
Sodium60mg
Carbohydrates49g
Dietary Fiber12g
Protein13g
Calcium207mg
Magnesium98mg
Potassium382mg
Vitamin E5mg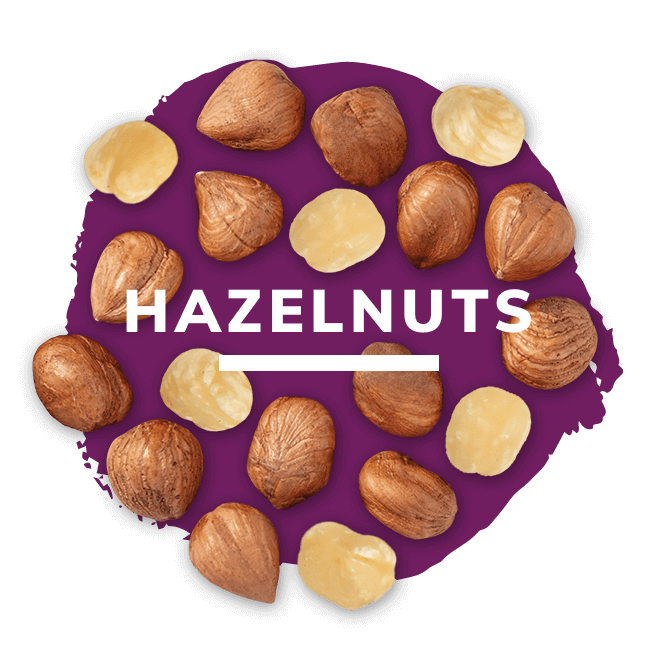 WANT FACTS ON HAZELNUTS?
learn more