Recipe:
Oregon Raspberry and Hazelnut Ricotta Cake
Yield:

8 servings

Total Time:

70min
Description
This simple cake makes a winning dessert for a special dinner and it is sure to please guests at your next brunch. Ricotta cheese creates a dense, tender cake while crunchy hazelnuts and sweet raspberries add a balanced touch of seasonal flavors and textures.
Ingredients
¾ cup raw hazelnuts
1 ½ cups all-purpose flour
1 cup sugar
2 teaspoons baking powder
1 teaspoon lemon zest
½ teaspoon fine sea salt
3 large eggs
1 ½ cups whole milk ricotta cheese
1 teaspoon vanilla extract
1 cup fresh raspberries, divided
Whipped cream for garnish, optional
Chopped roasted hazelnuts for garnish
Instructions
Preheat the oven to 350 degrees F. Line the bottom of an 8-inch cake pan with parchment paper. Spray inside of the pan, including the parchment, with non-stick cooking spray.
Place ¼ cup of the hazelnuts in a small food processor or spice grinder and pulse until they resemble a fine meal. Crack or half part of the remaining hazelnuts and set aside the cracked and whole nuts.
Add the hazelnut meal and the flour to a large bowl. Stir in the sugar, baking powder, lemon zest, and salt. In a medium bowl, stir together the eggs, ricotta, and vanilla. Fold this into the dry ingredients until a smooth batter forms.
Reserve half of the raspberries. Stir the remaining berries into the batter. Pour the batter into the prepared pan. Top with the reserved raspberries and the reserved whole and halved hazelnuts.
Bake for 55 to 60 minutes, until a toothpick inserted into the center of the cake comes out clean. If the hazelnuts look like they are browning too quickly, place a tented piece of aluminum foil over the cake while it continues to bake.
Let the cake cool for 20 minutes. Carefully invert the pan over a plate to release the cake. Flip the cake back over so that the raspberries and hazelnuts are on top. Slice and garnish with whipped cream, if desired, and more chopped hazelnuts before serving.
nutrition facts
Based on 8 servings
Per serving:
Calories390
Total Fat20g
Saturated Fat7g
Trans Fat0g
Cholesterol100mg
Sodium240mg
Total Carbohydrate43g
Dietary Fiber2g
Total Sugars19g
Protein13g
Vitamin D1mcg
Vitamin E2mg
Calcium280mg
Iron2mg
Potassium190mg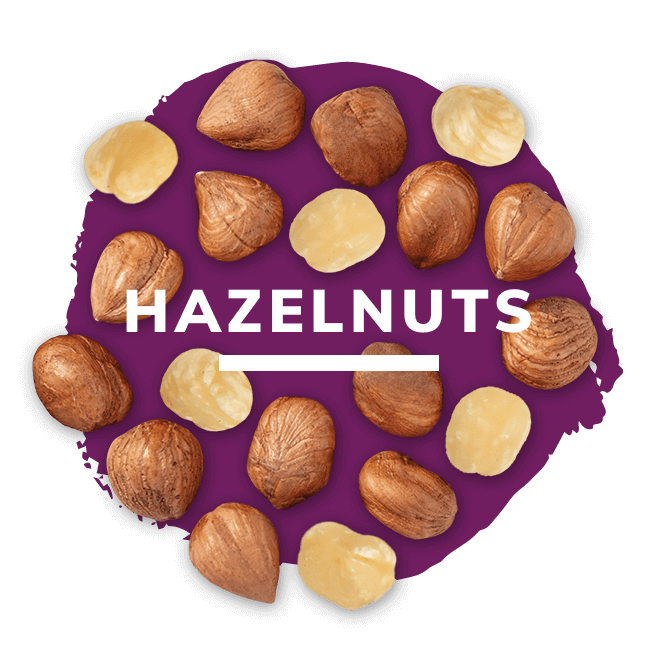 Want Facts on Hazelnuts?
learn more