Recipe:
Pappardelle with California Walnut Pesto
Yield:

16 servings

Total Time:

20 min
DESCRIPTION
California walnuts add flavor and texture to crushed herbs and warm pasta in this classic Italian dish. Adapted from Chef/Owner Ethan Stowell, Union Restaurant, Seattle, WA. Kitchen Hack: Use an ice cube tray to save leftover sauce.
INGREDIENTS
3 1/2 cups California walnuts, toasted
4 cups Italian parsley leaves, packed
2 cups Parmigiano Reggiano cheese, freshly grated
4 garlic cloves
1 1/2 cups extra virgin olive oil
Salt and pepper to taste
4 pounds pappardelle pasta, fresh
1 1/2 cups California walnuts, toasted, chopped
Parmigiano Reggiano cheese (optional)
INSTRUCTIONS
Place half of the walnuts, parsley, cheese and garlic in food processor; process until finely chopped.
With motor running, slowly pour in half of the oil; purée until smooth. Transfer to bowl and repeat with remaining ingredients, making a total of 2 batches. Season with salt and pepper; set aside. (Makes approximately 4 cups).
Cook pasta in boiling salted water until al dente, about 3 to 4 minutes. Drain, reserving some of the cooking water. For each serving, toss 2 cups cooked pasta with 1/4 cup Walnut Pesto adding some of the reserved cooking water as required to thin the pesto; toss well to coat evenly.
Transfer to warm pasta bowl; sprinkle with 1 tablespoon chopped walnuts and shaved or grated cheese, as desired. Serve immediately.
nutrition facts
Based on 16 servings
Per serving:
Calories440
Total Fat24 g
Polyunsaturated Fat10 g
Cholesterol4 mg
Sodium87 mg
Carbohydrates45 g
Dietary Fiber4 g
Protein12 g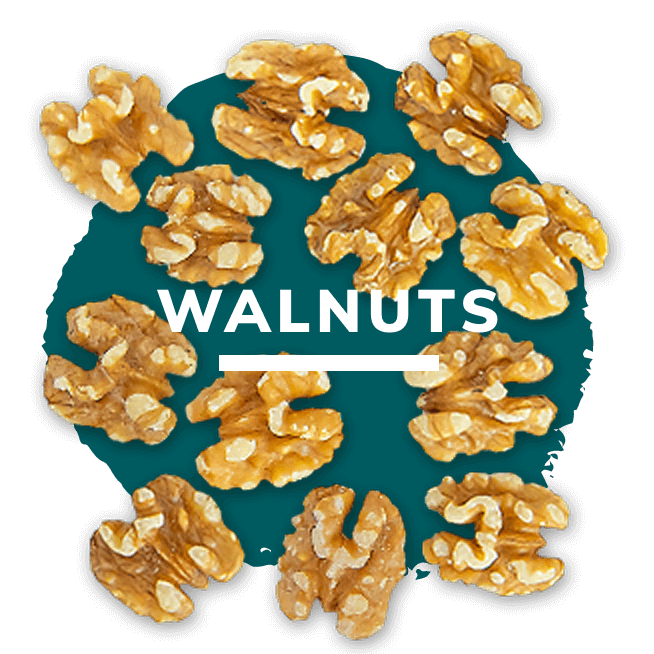 want facts on walnuts?
learn more