Recipe:
Peach Pecan Crumble Muffins
Yield:

12

Total Time:

30 minutes
DESCRIPTION
Blogger Dani Breiner of Dani's Healthy Eats creates a sensational vegan and gluten-free treat that will excite your summertime taste buds – Peach Pecan Crumble Muffins!
INGREDIENTS
Muffin Ingredients
3/4 cup pecan meal
1 1/2 cups oat flour
3/4 teaspoon baking powder
1/2 teaspoon baking soda
1 cup applesauce, room temperature
1/2 cup fresh peach, diced into cubes
1/4 cup coconut oil, melted
1/4 cup coconut sugar
1 flax egg (1 tablespoon flaxseed meal and 3 tablespoons water, blended and let sit for 5 minutes)
1 1/4 teaspoon vanilla
1 teaspoon cinnamon
Pinch of salt
Crumble Ingredients
1 cup raw pecan pieces
3 tablespoons vegan butter or melted coconut oil
2 tablespoons coconut sugar
2 teaspoons cinnamon
White chocolate for drizzling, optional
Instructions
Preheat oven to 350F and line a cupcake tin with liners.
Mix all of the wet ingredients together until well combined. Then stir in the dry just until combined, don't over-mix. Fold in the peaches.
Divide the batter amongst the cupcake tins.
Combine all of the crumble ingredients in a bowl. Divide the crumble amongst the muffins, sprinkling it over the tops, slightly pressing it on to ensure it sticks.
Bake for 18-22 minutes or until set and a toothpick inserted comes out clean. Let cool. Drizzle with melted white chocolate.
Store in an air right container in the fridge!
nutrition facts
Based on 12 servings
Per serving:
Calories250
Total Fat19g
Saturated Fat8g
Sodium105mg
Carbohydrate19g
Dietary Fiber3g
Protein3g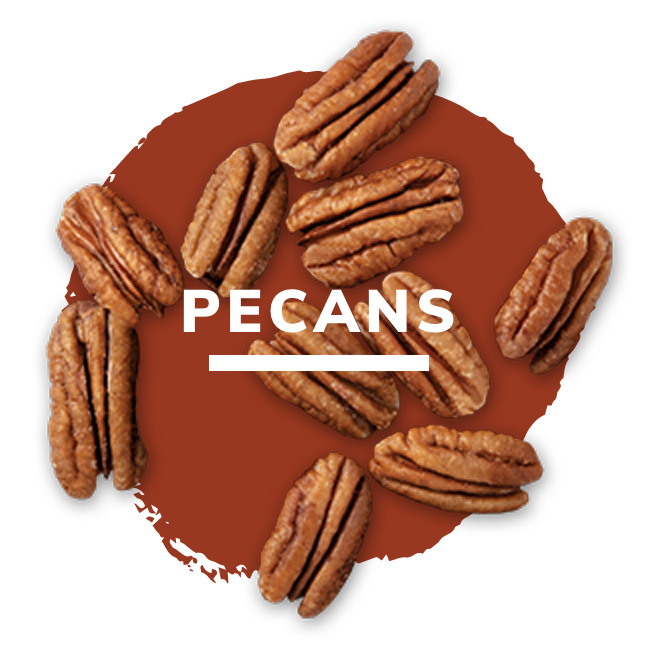 Want Facts on Pecans?
learn more