Recipe:
Pecan Banana Bread
Yield:

20 servings

Total Time:

1hr 15min
DESCRIPTION
Put a delicious twist on this classic breakfast dish with pecans. Simply combine pecan pieces into the mix and sprinkle additional on top for a flavorful crunch that can be made ahead of time for a weekday morning or if entertaining guests.
Recipe submitted by Jessica Hylton-Leckie, Jessica in the Kitchen.
INGREDIENTS
1 cup raw pecan pieces + more for topping
Cooking spray for coating pan
1 3/4 cup gluten free or regular baking flour mix
1 teaspoon baking powder
1/2 teaspoon baking soda
1/2 teaspoon sea salt
2 flax eggs or equivalent amount of egg replacer* or two eggs
1 cup coconut sugar or other sugar
1/2 cup coconut oil or pecan oil
1/2 vanilla bean or 1 teaspoon vanilla extract
1/2 cup plain soy yogurt or regular yogurt
3/4 cup ripe mashed bananas*
INSTRUCTIONS
Preheat the oven to 350 degrees F. Prepare your 9 x 5 banana bread pan by coating the inside of pan with cooking spray and then sprinkling with a bit of the flour mix. Set aside.
In a medium sized bowl, sift the 10 ounces (1 3/4 cup) of the flour mix, baking powder, baking soda and sea salt and whisk to combine.
In a mixer attachment bowl, add the flax eggs/egg replacer/egg, sugar and coconut oil. Mix together for about 2 minutes on medium-low speed.
Scrape the vanilla bean and add to the mixture. Add the soy yogurt and the mashed bananas and mix everything together for 2 more minutes on medium low speed, scraping down the sides and bottom to ensure everything is combined.
Add in 1/2 of the dry ingredients mixture, combine for 30 seconds, and then add in the rest of the dry ingredients mixture. Mix again for another 30 seconds, ensuring everything is combined.
Remove bowl from mixer and fold in the raw pecan pieces into the batter until evenly distributed. The batter should be thick.
Add the batter to the banana bread pan and use your spatula to smooth down the top. Sprinkle some pecan pieces on top.
Bake the banana bread on the top shelf of your oven for 60 minutes, until a toothpick comes out with a few crumbs. You don't want it to come out clean, so watch your banana bread from about 50 minutes depending on your oven.
Remove from oven and allow to cool for 10 minutes in pan. Transfer the bread to a wire rack by placing the wire rack on top of the bread, then holding the sides of the pan and flipping it over and removing the pan. Hold the sides of the bread to turn right side up. You can also turn the pan over into your hand, and then flip right side up and place on a wire rack.
Allow the bread to cool completely. Slice as desired. Enjoy!
Recipe notes:
Flax egg recipe: 2 tablespoons ground flaxseed meal mixed with 6 tablespoons water.
Look for very ripe bananas – with dark or black skin.
nutrition facts
Based on 20 servings
Per serving:
Calories200
Fat11g
Sat Fat5g
Sodium120mg
Carbs25g
Fiber2g
Protein2g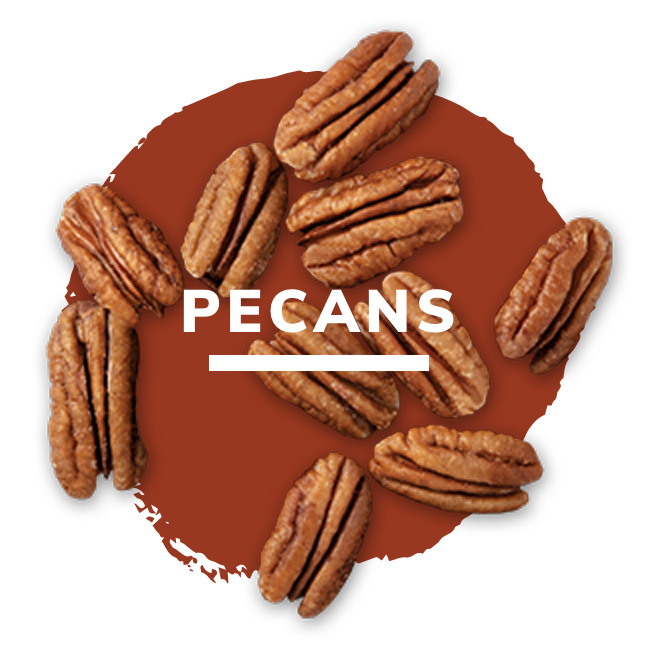 WANT FACTS ON PECANS?
learn more