Recipe:
Pistachio Pound Cake
Yield:

12 servings

Total Time:

1hr 15min
DESCRIPTION
Pistachio Pound Cake. Recipe by Jean-Yves Charon.
INGREDIENTS
For the Batter
½ Cup Cake Flour
5/8 Teaspoon Baking Powder
½ Teaspoon Salt Scant
½ Cup Granulated Sugar
2½ Teaspoons Lemon Zest
½ Cup Unsalted Butter
4 tablespoons Soy Oil
3 medium Eggs
1¼ cups Pistachios finely ground
For the Topping
½ Cup Granulated Sugar
¾ Teaspoon Water
⅓ Cup Toasted Whole Pistachios, Shelled
INSTRUCTIONS
Preheat the oven to 325° F. Grease a pound cake pan. With an electric mixer, cream the butter, oil, lemon zest and sugar on medium-high until light and fluffy, about 4 minutes. Add the eggs; mix for 1 additional minute at medium speed. Add the cake flour, finely ground pistachios, baking powder and salt to the mixture. Mix on low speed for about 20 seconds. Scrape the side and bottom of the bowl, and then mix for 1 additional minute at low-medium speed. Pour the batter into the greased pound cake pan and bake for 1 hour at 325° F, or until the cake is cracked on top and a toothpick inserted in the center of the cake comes out clean. Let the cake cool in the pan for 10 minutes; then remove it to a serving plate.
Make a syrup with the sugar and the water – cook for about 2 minutes after it starts to boil. Spoon the syrup over the pound cake; sprinkle the whole pistachios over the syrup. Let cool for 30 to 40 more minutes before slicing and serving.
nutrition facts
Based on servings
Per serving:
Calories240
Total Fat19g
Saturated Fat6g
Cholesterol60mg
Sodium115mg
Total Carbohydrates14g
Dietary Fiber1g
Total Sugars7g
Protein4g
Calcium20mg
Iron1mg
Potassium9mg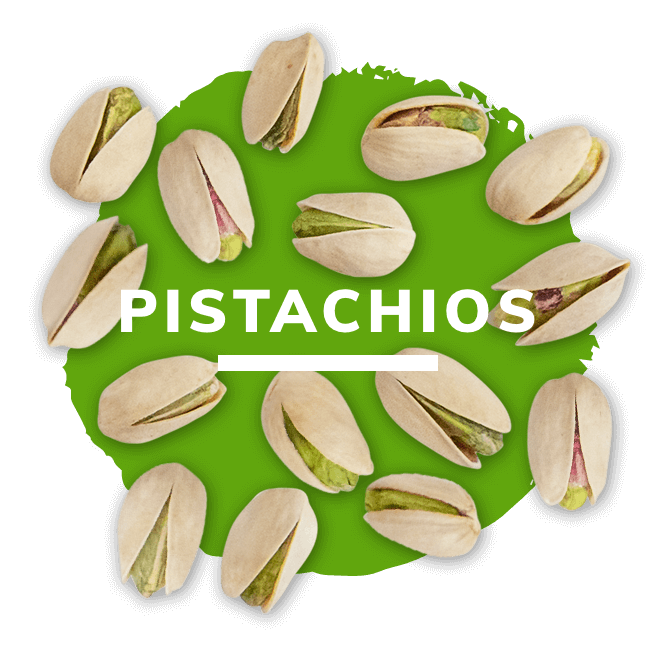 WANT FACTS ON PISTACHIOS?
learn more