Recipe:
PISTACHIO TART WITH SHORTBREAD CRUST
Ingredients
FOR THE CRUST:
6 ounces (1½ sticks) unsalted butter, room temperature
¼ cup plus 2 tablespoons sugar
Salt, pinch
1¾ cups plus 1 tablespoons flour
FOR THE FILLING:
1⅓ cups unsalted pistachio kernels
2 tablespoons flour
¾ cup plus 1 tablespoon sugar
6 ounces (1½ sticks) unsalted butter, room temperature
2 eggs
½ teaspoon salt
Instructions
Preheat oven to 350 degrees.
FOR THE CRUST
In the bowl of an electric mixer combine all ingredients and mix with paddle attachment until fully incorporated. Remove from bowl and press evenly into a fluted 9-inch tart pan that has been sprayed with pan spray. Chill in refrigerator for at least 30 minutes. Remove from refrigerator, line bottom of tart pan with a circle of parchment paper, cut to size. Fill with dry beans, enough to cover the parchment paper. Par-bake the shell until light golden brown, about 10 minutes, remove from oven and cool completely. Once cool, discard the beans (or store for later use).
FOR THE FILLING
Pulse the pistachios in a food processor until very coarsely chopped (some of the pistachio will be mealy and the remainder will be coarse). Turn pistachios into a mixing bowl, add all other ingredients and combine with a spatula until fully incorporated.
Fill the par-baked tart shell with the pistachio filling, smooth the top with a spatula, and bake for 30-40 minutes, until filling is golden brown and set. Test for doneness by inserting a clean knife or toothpick in the center—it should come out clean and the tart should not jiggle. If the crust begins to brown before the pie filling is set, cover loosely with aluminum foil and bake until done.
Serve with whipped cream or ice cream.
Note: Baking time may vary depending on oven and altitude.
nutrition facts
Based on 10 servings
Per serving:
Calories 510
Total Fat 36g
Saturated Fat18g
Trans Fat 1g
Cholesterol 110mg
Sodium 160mg
Total Carbohydrate42g
Dietary Fiber2g
Total Sugars 21g
Protein 7g
Vitamin D0mcg
Calcium 35mg
Iron2mg
Potassium213mg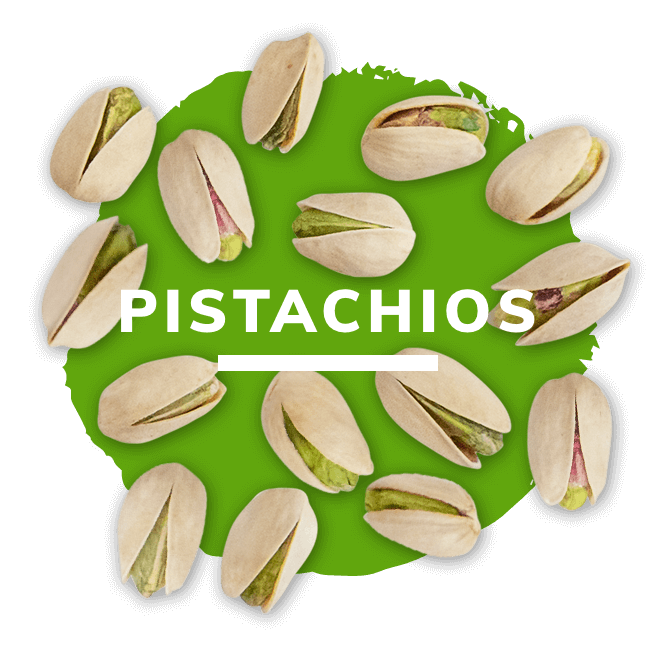 WANT FACTS ON PISTACHIOS?
learn more