Recipe:
Spiced Walnut Trail Mix
Yield:

4 servings

Total Time:

15 minutes
Description
When you're on the go and need a pick-me-up, this sweet and savory trail mix is a perfect balance of flavors. Just prepare the walnuts and mix everything together. Transfer to a portable container of your choosing and you're good to go!
Ingredients
Toasted Spiced Walnuts
1 tablespoon olive oil
1 cup California walnuts
1/2 teaspoon curry powder
1/2 teaspoon chili powder
1/2 teaspoon ground cumin
1/4 to 1/2 teaspoon chili flakes
Salt and pepper to taste
Trail Mix
2 cups popcorn
1 cup pretzels
1/2 cup granola
1/3 cup dried apricots
1/4 cup dried cranberries
1/4 cup chocolate chips
Instructions
Heat oil in a medium skillet over medium-high heat. Add walnuts and stir well.
Sprinkle curry, chili powder, cumin and chili flakes over walnuts and stir until walnuts are well coated. Cook over medium heat for 5 minutes or until toasted. Season with salt and pepper and let cool.
Place walnuts in a large bowl with all trail mix ingredients and toss well. Store in a tightly covered container. Take on the go in a mason jar or glass container.
nutrition facts
Based on 4 servings
Per serving:
Calories392
Total Fat27g
Saturated Fat4.5g
Cholesterol0mg
Sodium350g
Carbohydrate 36g
Dietary Fiber5g
Protein7g
Vitamin D0mcg
Calcium45mg
Iron2mg
Potassium290mg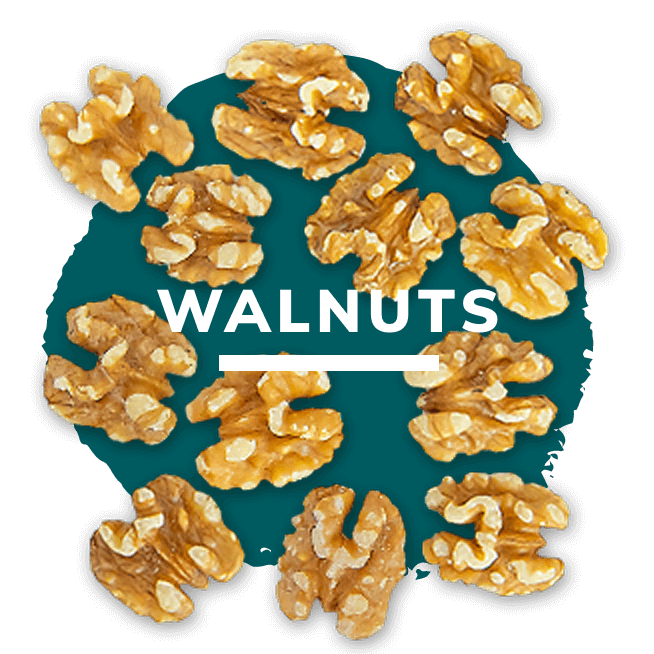 Want Facts on Walnuts?
learn more