Recipe:
Sweet and Salty Chocolate Walnut Bark
Yield:

12 servings

Total Time:

20 minutes
Description
Whether topped with sweet and salty ingredients or marbled with sweet dark and white chocolate, Chocolate Walnut Bark is a delightful treat any time of year.
Ingredients
1 1/2 cups California walnuts
1/2 cup Pomegranate arils (seeds), fresh
1/2 teaspoon course or flaked sea salt
1 (12-ounce) bag dark or semi-sweet chocolate chips or 12-ounce chocolate bar, broken loosely into pieces
1 (12-ounce) bag white chocolate chips or 12-ounce white chocolate bar, broken loosely into pieces
2 teaspoons vegetable oil, divided
Instructions
Coarsely break or rough chop walnuts and place in a small bowl, leaving aside any skins that have broken off.
Set pomegranate arils out beside the walnuts.
Line a baking sheet with parchment paper.
Melt chocolate. Microwave technique: Place about 2/3 of the dark or milk chocolate chips in a medium glass bowl with 1 teaspoon vegetable oil.  Microwave on 50% power for 30 seconds and stir. Repeat until the chips are mostly melted. Add the remaining chips into the bowl and stir vigorously. You will have a thick, melted bowl of chocolate. Repeat the melting steps with the white chocolate and remaining vegetable oil. Stovetop technique: Using a double boiler on medium heat with 1-2 inches of water to the bottom pan, careful to make sure that the water does not touch the bottom of the upper pan (or other heat-safe mixing bowl).  Add the chocolate and stir frequently as you see the chocolate begin to melt. Once melted, remove from heat and add the remaining chocolate chips into the bowl and stir vigorously. Repeat for the white chocolate and remaining vegetable oil.
Using a spatula, spoon out the melted chocolate onto the parchment paper to make a 1/4-inch layer. You can create an optional marbled look by reserving and dropping spoonfuls of the dark chocolate onto the white layer and white chocolate onto the dark layer and using a knife to create an unstructured pattern.
Sprinkle with walnuts and pomegranate arils and lightly press them into the surface of the chocolate. Sprinkle a few flakes of sea salt across the bark.
Refrigerate on the baking sheet until firm, then remove from the refrigerator and carefully break it into pieces.
Store in the refrigerator on layers of parchment paper in an airtight container for up to 2 weeks.
Tips
Make sure to melt the chocolate slowly at a lower power, stirring frequently. Melting too fast can cause the chocolate to become discolored.
Melting about 2/3 of the chocolate and then adding the rest to the hot, melted chocolate will yield the best bark texture. Stirring the chocolate well as it starts to cool will also help give the bark the best texture.
If you are marbling the chocolate, don't overmix. Swirl back and forth in a zigzag or in circles until you get your desired look.
Don't spread too thin or the toppings won't hold.
Store in the refrigerator until close to serving, especially in warmer climates or in a warm house, or the bark may become soft.
Variations
1 cup coarsely chopped pretzels
3/4 cup coarsely crushed candy canes
3/4 cup dried cherries
1/2 cup coconut chips or large flakes unsweetened coconut
1/2 cup toffee bits
1/2 cup finely chopped crystallized ginger
1/2 cup mini marshmallows and 1/2 cup coarsely crumbled graham cracker crust
A light sprinkle of flaked smoked sea salt
nutrition facts
Based on 12 servings
Per serving:
Calories420
Total Fat29g
Saturated Fat12g
Polyunsaturated Fat7g
Monounsaturated Fat8g
Sodium70mg
Total Carbohydrate35g
Dietary Fiber3g
Protein6g
Calcium80mg
Iron2mg
Potassium290mg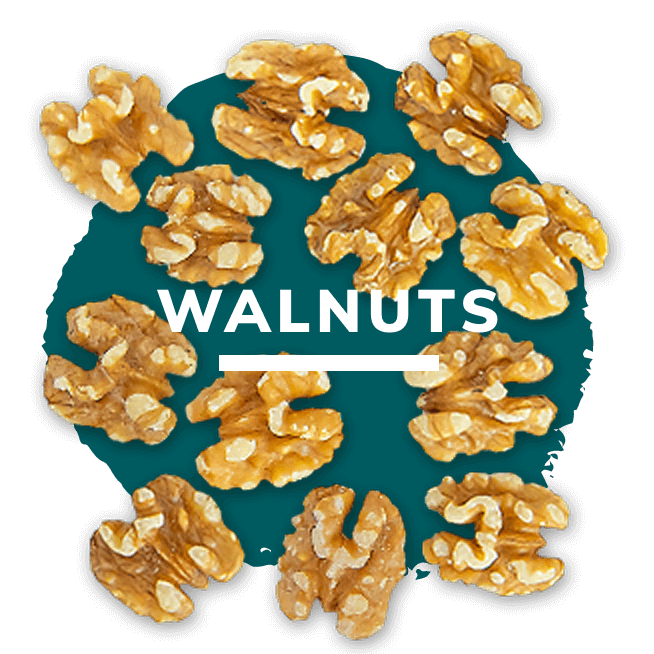 Want Facts on Walnuts?
learn more