Recipe:
Sweet and Spicy Hazelnut Snack Mix
Yield:

7 Cups

Total Time:

55mins
Description
Prepare for this snack mix to disappear fast! Crunchy hazelnuts, cereal, and pretzels are coated in a sweet and spicy mix of honey and habanero salt for an addictive treat to share. It pairs perfectly with crisp and refreshing Rogue Honey Kolsch.
Ingredients
3 cups corn Chex cereal
2 cups whole raw hazelnuts
1 cup mini pretzel twists
3 tablespoons unsalted butter, melted
3 tablespoons Glory Bee raw honey
2 teaspoons Jacobsen Salt Habanero Salt, or to taste
Instructions
Preheat the oven to 250 degrees F and spray a large rimmed baking sheet with non-stick cooking spray.
Add the cereal, hazelnuts, and pretzels to a large bowl. Whisk together the melted butter, honey, and 1 teaspoon of salt in a small bowl. Pour over snack mix and stir gently to coat all ingredients.
Transfer the mix to the prepared baking sheet and spread into a single layer. Bake for 15 minutes, then carefully stir and spread back into a single layer. Continue to bake for a total of 45 minutes, stirring every 15 minutes. Watch it carefully the last 10 minutes to ensure it doesn't brown too quickly.
Sprinkle the hot snack mix with ½ teaspoon more of the salt. Once cool enough to taste, season with more salt if desired. Let cool for 5 minutes, or until cool enough to handle. Break into pieces and store in an airtight container for up to 3 days.
nutrition facts
Based on 7 servings
Per serving:
Calories 210
Total Fat15g
Saturated Fat 2.5g
Trans Fat 0g
Cholesterol5mg
Sodium420mg
Total Carbohydrate 19g
Dietary Fiber2g
Total Sugars6g
Protein 4g
Vitamin D0mcg
Calcium 45mg
Iron 3mg
Potassium163mg
Vitamin E3mg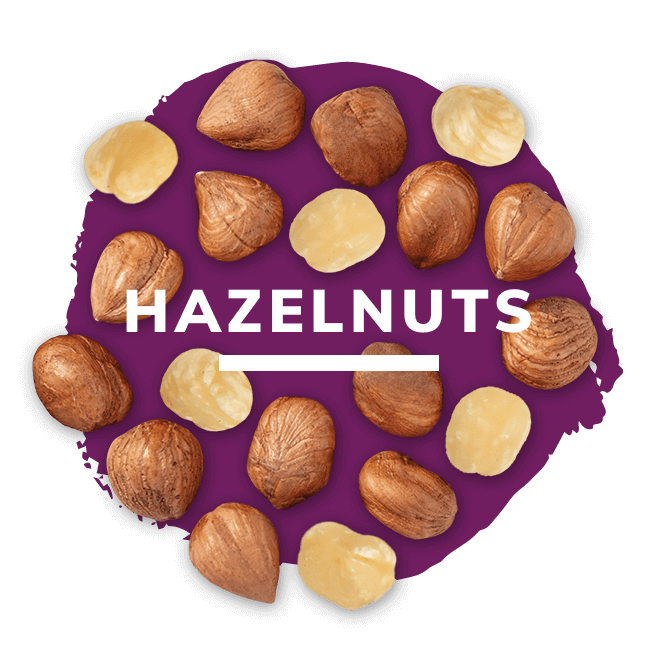 WANT FACTS ON HAZELNUTS?
learn more