Recipe:
Teriyaki Pork & Walnut Zucchini Noodle Bowl
Yield:

5 servings

Total Time:

35mins
Description
This lighter take on a teriyaki noodle bowl is a quick and easy crowd-pleasing meal, perfect for a weeknight dinner. Featuring thinly sliced strips of pork tenderloin, bell peppers, matchstick carrots, spiral zucchini noodles and walnuts all tossed in a simple teriyaki sauce. Recipe by Beth Stark, RDN, LDN.
Ingredients
2 tablespoons sesame oil, divided
4 cloves garlic, minced and divided
1-pound lean pork tenderloin, trimmed of visible fat and cut into ½-1-inch thick strips
1 medium red bell pepper, chopped
1-1/4 cups shredded or matchstick-cut carrots (about 4 ounces)
1 cup chopped walnuts
1-pound prepared zucchini noodles
1/4 cup lower sodium teriyaki sauce with 1 tablespoon water mixed in
1/4 cup chopped green onion tops
Instructions
Heat 1-1/2 teaspoons sesame oil in a large skillet over medium-high heat until hot. Add half of the minced garlic cloves and half of the pork; cook and stir 5 minutes, or until browned and 145°F. Set aside. Repeat with 1-1/2 teaspoons sesame oil, remaining half of minced garlic cloves and pork; set aside.
To the same skillet, over medium-high heat, add remaining 1 tablespoon sesame oil, bell pepper, carrots and walnuts; cook and stir until vegetables are tender; about 3-5 minutes.
Reduce heat to low; add zucchini noodles, pork and combined teriyaki sauce and water to the skillet; use tongs to coat mixture evenly with sauce; cook 5 minutes until heated through. Garnish with green onions and serve.
nutrition facts
Based on 5 servings
Per serving:
Calories350
Total Fat23g
Saturated Fat3g
Trans Fat0g
Polyunsaturated Fat13g
Monounsaturated Fat4g
Cholesterol35mg
Sodium350mg
Carbohydrates16g
Dietary Fiber4g
Total Sugars8g
Protein26g
Calcium60mg
Iron100mg
Potassium486mg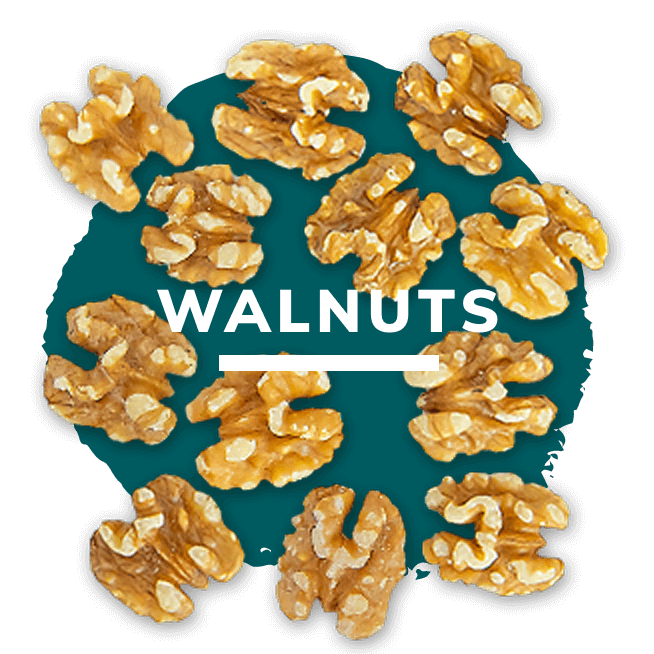 WANT FACTS ON WALNUTS?
learn more