Recipe:
Walnut and Cranberry Stuffed Sweet Potatoes
Yield:

6 servings

Total Time:

1 hour, 30 minutes
Description
By Jenny Shea Rawn, MS, MPH, RD, recipe developer and healthy food blogger at My Cape Cod Kitchen
Ingredients
6 medium sweet potatoes, scrubbed
1 cup California walnuts, chopped
1 cup dried sweetened cranberries
1/4 cup (4 tablespoons) salted butter, softened
3 tablespoons dark brown sugar, packed
1 tablespoon ground cinnamon
1/4 teaspoon salt
4 tablespoons maple syrup
Instructions
Preheat oven to 350℉ and line a baking sheet with foil.
Pierce sweet potatoes a few times with a fork and place onto prepared baking sheet. Bake for 55 to 65 minutes, until sweet potatoes are tender when pierced with a fork or sharp knife. Let sweet potatoes cool slightly then slice open lengthwise and spread open slightly. Mash pulp of each sweet potato with a fork.
Combine chopped walnuts, cranberries, butter, brown sugar, cinnamon and salt into a medium bowl; mix well.
Mound each sweet potato with 1/3 cup cranberry walnut mixture. Place sweet potatoes back in oven and bake an additional 15 minutes, until topping is warm and fragrant. Remove sweet potatoes from oven.
Drizzle sweet potatoes with maple syrup and serve warm.
nutrition facts
Based on 6 servings
Per serving:
Calories454
Total Fat20g
Saturated Fat6g
Polyunsaturated Fat10g
Monounsaturated Fat4g
Sodium231mg
Total Carbohydrate67g
Dietary Fiber8g
Protein5g
Calcium87mg
Iron1mg
Potassium574mg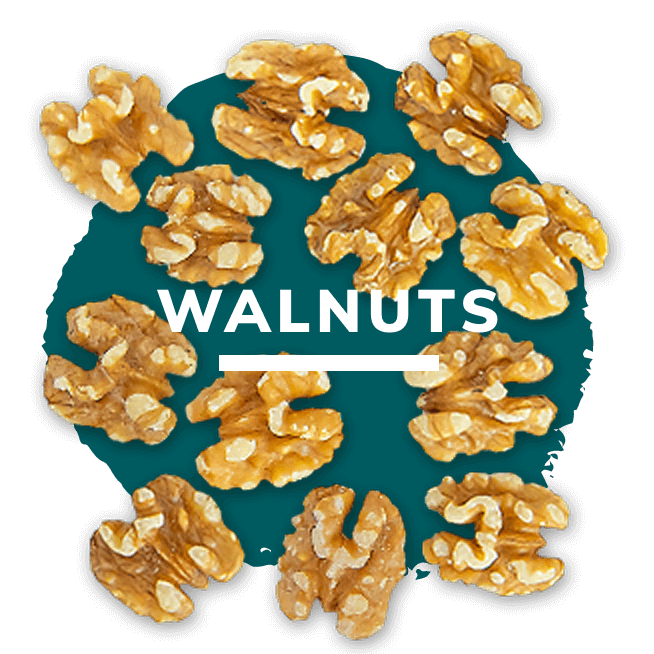 Want Facts on Walnuts?
learn more