Recipe:
Walnut Mexican Street Corn Tacos
Yield:

6 servings

Total Time:

18 minutes
Description
Expect a touch of smoky flavor in these vegetarian tacos, courtesy of the fire roasted corn and chipotle adobo sauce. That boldness in flavor is contrasted with creamy cotija cheese and sour cream, and brightness from fresh lime and cilantro. The "meat" is made with a hearty combination of walnuts and chopped mushrooms. For a twist on the recipe, serve the taco filling over a rice base instead of in tortillas.
Ingredients
Chipotle Sauce
1 1/2 tablespoons chipotle adobo sauce
1/2 cup low-fat sour cream
California Walnut Taco "Meat"
1 1/2 cups raw shelled walnuts
2 cups roughly chopped white button mushrooms
1 teaspoon ground cumin
1 1/2 teaspoons chili powder
1 teaspoon minced garlic
1 1/2 tablespoons low sodium soy sauce or coconut aminos
1 tablespoon fresh lime juice
2 tablespoons olive oil, for cooking
Tacos
12 small flour or corn tortillas
1 cup drained fire roasted corn
1/2 cup crumbled cotija cheese
1/2 cup fresh cilantro
1 lime, sliced into wedges
Instructions
Stir together chipotle adobo sauce and sour cream in a small bowl. Refrigerate until serving.
Combine walnuts, mushrooms, cumin, chili powder, garlic, soy sauce and lime juice in a food processor. Pulse to break up walnuts and mushrooms into small crumbles.
Heat olive oil over medium-low heat in a skillet. Add walnut mixture and cook, stirring occasionally for 7-8 minutes, until mushrooms are tender.
Spoon walnut taco meat over tortillas topped with roasted corn, cotija, chipotle sauce, cilantro, and lime wedges
nutrition facts
Based on 6 servings
Per serving:
Calories311
Total Fat18.5g
Saturated Fat6.5g
Polyunsaturated Fat10g
Monounsaturated Fat4g
Sodium450mg
Total Carbohydrate31g
Dietary Fiber5g
Protein8g
Vitamin D84mcg
Calcium108mg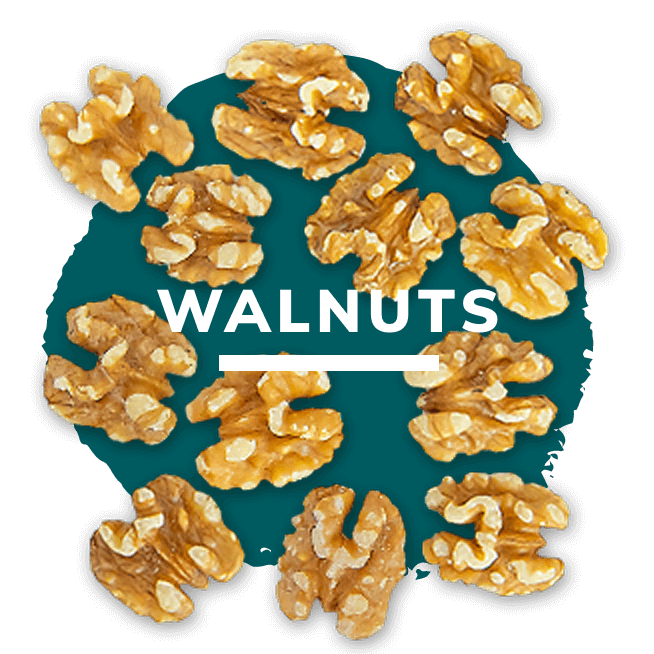 Want Facts on Walnuts?
learn more