Recipe:
Almond, Farro And Black Bean Salad With Cilantro
Ingredients
2 ounces slivered almonds
1 1/2 cups water
1/3 cup farro
15-ounce can black beans, rinsed and drained
1 cup fresh or frozen, thawed shelled edamame or frozen green peas, thawed
1/3 cup diced red onion
1/4 cup extra-virgin olive oil
Grated rind and juice of 1 large lemon
2 teaspoons Dijon coarse-grain mustard
1 medium garlic clove, minced
1/2 teaspoon salt or to taste
1/8 teaspoon dried red pepper flakes, optional
1 cup chopped fresh cilantro
Instructions
Heat a medium saucepan over medium-high heat.
Add almonds and cook two minutes or until beginning to lightly brown, stirring frequently.
Remove from saucepan and set aside on separate plate.
Add water to saucepan, bring to a boil over high heat, stir in farro, reduce heat to medium-low, cover and simmer for 15 minutes or until just tender.
Drain in a fine mesh sieve and run under cold water to cool quickly. Shake off excess liquid.
Meanwhile, combine remaining ingredients, except cilantro, in a medium bowl.
Stir in drained farro and cilantro and mix until blended.
Note: For an even fresher flavor, add one cup diced cucumber.
nutrition facts
Based on 8 servings
Per serving:
Calories207
Fat12g
Saturated Fat1g
Mono Fat7g
Poly Fat2g
Protein7g
Carbohydrate19g
Fiber7g
Cholesterol0mg
Sodium236mg
Calcium59mg
Magnesium52mg
Potassium329mg
Vitamin E3mg*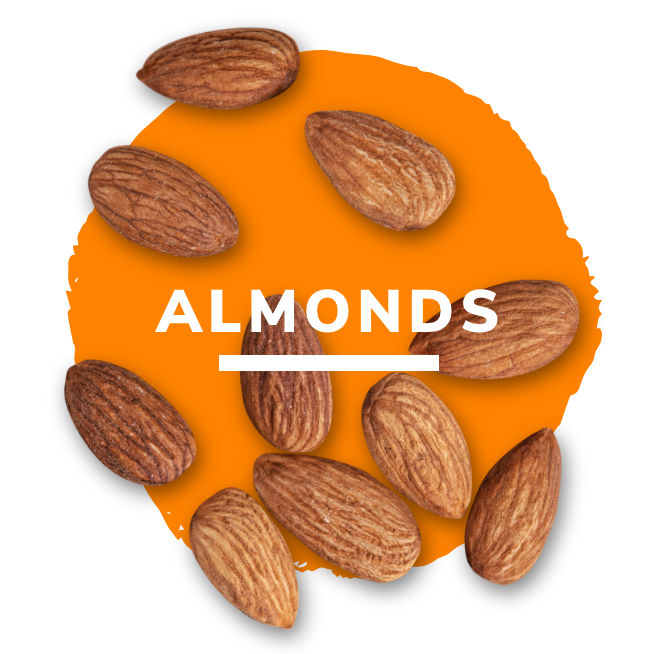 WANT FACTS ON ALMONDS?
learn more