Almonds

A 1-ounce serving of almonds provides:
Dietary Fiber
Good source of fiber: 4 grams/14% of the Daily Value
Protein
6 grams of plant-based protein
Healthy Fats
14 grams of total fat: 64% is from monounsaturated fat and 25% from polyunsaturated fat
Nutrient-Dense
Excellent source of vitamin E, copper, magnesium, manganese and riboflavin
Good source of phosphorus
Sodium-free
Looking for tips and tricks?
ALMOND NUTRITION FACTS
Serving Size: 1 oz. (28.35g) Approx 23 kernels**
Amount Per Serving
Total Fat 14g

18%

Saturated Fat 1g

5%

Polyunsaturated Fat 3.5g

Monounsaturated Fat 9g

Cholesterol 0mg

0%

Sodium 0mg

0%

Total Carbohydrate 6g

2%

Dietary Fiber 4g

14%

Protein 6g
Vitamin D 0mcg

0%

Calcium 76mg

6%

Iron 1.05mg

6%

Potassium 208mg

4%

Vitamin A 3mcg

0%

Vitamin E 7.27mg

50%

Vitamin B6 0.04mg

2%

Phosphorus 136mg

10%

Vitamin C 0mg

0%

Thiamin 0.06mg

4%

Folate 12mcg

4%

Magnesium 77mg

20%

Selenium 1.2mcg

2%

Manganese 0.62mg

25%

Zinc 0.88mg

8%

Copper 0.29mg

30%
*The % Daily Value (DV) tells you how much a nutrient in a serving of food contributes to a daily diet. 2,000 calories a day is used for general nutrition advice.
**Almonds are unsalted and unroasted.
History
Mentioned in everything from Greek mythology to the bible, almonds have a rich history dating back to 1400 BC. By 600-900 AD, almond orchards bloomed across Spain, Morocco, Greece, and Israel, and found their way east through the Silk Road to China. Spain maintained its almond production and they are still produced there. In the 700s AD, the almond tree was brought from Spain to California by Franciscan padres. Today, approximately 80 percent of the world's supply is grown in the ideal Mediterranean climate of California, making almonds California's top agricultural export and the largest U.S. specialty crop export. Almonds find their way to almond consumers in over 90 countries, but over 30% of consumption is within the U.S.
Almond orchards generally yield the first crop three years after planting and then annually for up to 25 years from planting. The annual lifecycle has many stages, with November through January marking a period of dormancy or downtime for the trees. From mid-February to mid-March, they can be seen in full bloom, across the California central valley, with white and light-pink blooms lending themselves as a picturesque backdrop. The pollinated blooms turn into the almond fruit and kernels mature and grow from March to June. During the peak of California sunshine, almond hulls split open, revealing the almond shell. After basking in plenty of California sunshine, the almonds are harvested from August through October.
Apart from imparting various health benefits, almonds are extremely versatile and can be used in several forms, from whole almonds to roasted, sliced, diced, blanched, ground, and more. Almonds are an incredibly nutrition-packed addition to healthy diets and snacks.
For more information about almonds, view our member page.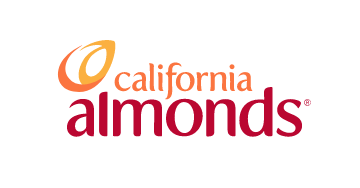 We're nuts about almonds
Check out our videos for more nutritious tree nut recipes.
More Tree Nuts
Tree nuts are nutrient-dense whole foods that are rich in unsaturated fats and contain protein, fiber and important vitamins, minerals and phytochemicals.