Recipe:
Almond Tamari Crisps
Yield:

16 servings

Total Time:

40 minutes
Description
Created by Chef Christine Farkas of IHeart Food Consulting on behalf of the Almond Board of California. Perfect for enjoying as is, including in snack packs!
Ingredients
2 teaspoon coconut oil, melted
1 cup slivered almonds
1 cup sliced almonds
1 cup pumpkin seeds
3 tablespoons sesame seeds
3 sheets of roasted sushi nori, crushed into small pieces, reserve some for garnish
6 tablespoons brown rice syrup
3 tablespoons honey
3 tablespoons tamari
Directions
Preheat oven to 320F. Prepare nonstick baking mat on baking traying, ready for use.
Coat a large mixing bowl with the melted coconut oil, along with a spoon you plan to use for mixing.
Lightly toast almonds and seeds and combine fully in bowl with the crushed nori.
In a small saucepan combine brown rice syrup, honey, and tamari with a whisk. Heat, bring to a controlled gentle boil and cook for 5-6 minutes, or until the base has thickened, whisking often.
Pour the thickened syrup over the almond mixture and combine thoroughly, ensuring that all the nuts and seeds have been coated and combined well.
Pour the mixture immediately on top of a non-stick baking mat and tray, press firmly down, evenly, approximately 12" by 9" for the length and width. Sprinkle remaining garnishing nori on top.
Bake for 8-10 minutes, or until golden. Remove from oven and cool until easy to manage with hands.
Cut into pieces and allow to cool fully. Enjoy immediately, or store in airtight container and enjoy later as a snack.
nutrition facts
Based on 16 servings
Per serving:
Calories230
Total Fat15g
Saturated Fat2g
Sodium250mg
Total Carbohydrate19g
Dietary Fiber3g
Protein9g
Calcium65mg
Iron2mg
Potassium78mg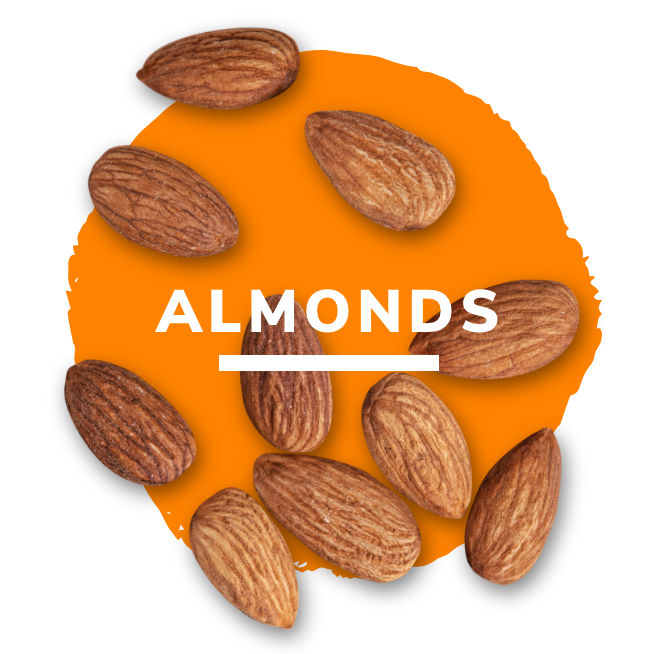 Want Facts on Almonds?
learn more