Recipe:
Big-Eye Tuna Poke with Macadamia Nuts, Seaweed and Soy-Pickled Jalapeños
DESCRIPTION
Recipe by Chef Chung Chow, noreetuh restaurant in New York.
INGREDIENTS
1 pound sushi grade Big-Eye tuna loin
½ cup dried seaweed (such as ogo and/or tosaka), rehydrated 10 minutes in cold water
½ small red onion, thinly sliced and soaked in ice water 10 minutes
1 scallion, thinly sliced on the bias
¼ cup macadamia nuts, roughly chopped
Toasted white sesame seeds, to taste
½ teaspoon sea salt
Soy-Pickled Jalapeño Peppers
1/2 pound jalapeño peppers, stems trimmed
1 bottle distilled white vinegar
1 cup soy sauce
Dressing
2 tablespoons soy sauce
1 ½ tablespoons rice vinegar
1 teaspoon tobanjan*
1 tablespoon canola oil
1 teaspoon sesame oil
INSTRUCTIONS
Prepare soy-pickled jalapenos by placing peppers in a wide mouth container or large bowl. Add soy sauce vinegar to cover peppers. Drain and reserve liquid.
Place liquid mixture in small sauce pan and bring to boil over medium heat. Pour over peppers. Cool to room temperature. Refrigerate until ready to serve.
Make dressing by combining soy sauce, rice wine vinegar and tobanjan in small bowl. Gently whisk in canola oil and sesame oil. Set aside.
Cut tuna loin into half inch cubes. Season with the reserved dressing.
Add rehydrated seaweed, drained sliced red onion, scallion, 8-10 slices of soy-pickled jalapeno, macadamia nuts and sesame seeds.
Toss gently to combine. Garnish with additional sesame seeds, scallions and sea salt.
*Tobanjan is a spicy miso sauce found in Asian specialty stores and some supermarkets. If you can't find it, you can use Korean Chile Paste, Gochujang, or simply omit.
nutrition facts
Based on 4 servings
Per serving:
Calories250
Total Fat12g
Saturated Fat2g
Monounsaturated Fat3g
Polyunsaturated Fat2g
Sodium880mg
Carbohydrates6g
Dietary Fiber2g
Protein30g
Vitamin D2 mcg
Calcium25mg
Iron3mg
Potassium605mg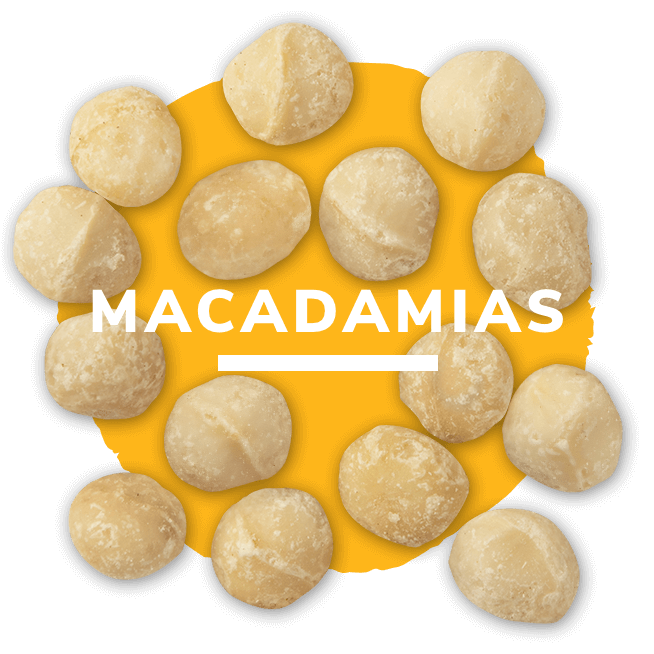 WANT FACTS ON MACADAMIAS?
learn more