Recipe:
Lamb and Pine Nut Pastries
DESCRIPTION
A traditional Middle Eastern Pastry, often made in smaller sizes as appetizers. Pine nuts are likely one of the most commonly used nuts in all kinds of Middle Eastern and Greek and Italian cooking – whether with lamb, pesto, over salads on in some of their sweet treats. Their flavor and texture is unique.
INGREDIENTS
1 pound ground lamb
1 shallot, finely diced
1 small onion, finely chopped
½ teaspoon cumin seeds (or ground)
½ teaspoon coriander seeds (or ground)
½ teaspoon all spice
½ teaspoon cinnamon
3 tablespoons tomato paste
½ cup roughly chopped Italian parsley
1 sprig mint, leaves chopped
½ cup pine nuts
4 sprigs fresh tarragon, chopped
12 sheets filo pastry
Melted butter or olive oil for brushing
INSTRUCTIONS
Place the lamb in a frying pan over medium high heat, and cook, stirring until browned, about 4-5 minutes.
Add the shallot, onion, spices and tomato paste and cook 15 minutes, adding a bit of water if mix becomes too dry, but you are aiming for a fairy dry mixture.
Remove from heat, add parsley, mint and half of the pine nuts and allow to cool slightly.
Preheat oven to 400F.
Chop and lightly toast the remaining pine nuts and toss with the tarragon.
On a clean, dry surface, lay down one sheet of filo pastry, brush with butter and top with another sheet. Brush again, and scatter a little of the pine nuts mix down half and fold in half horizontally.
Place 1/6 of the lamb mixture on one end of the pastry. Fold in edges and roll up like a cigar. Brush with butter and scatter over a little more pine nut mix.
Repeat with remaining mixture and pastry.
Lay on a lined baking tray and bake for 10-12 minutes or until golden brown.
Enjoy right away. Delicious with a cucumber yogurt sauce or tomato salsa and glass of Syrah.
nutrition facts
Based on 6 servings
Per serving:
Calories480
Total Fat34g
Saturated Fat14g
Cholesterol75mg
Sodium300mg
Total Carbohydrate27g
Dietary Fiber2g
Total Sugars4g
Protein18g
Calcium35mg
Iron3mg
Potassium419mg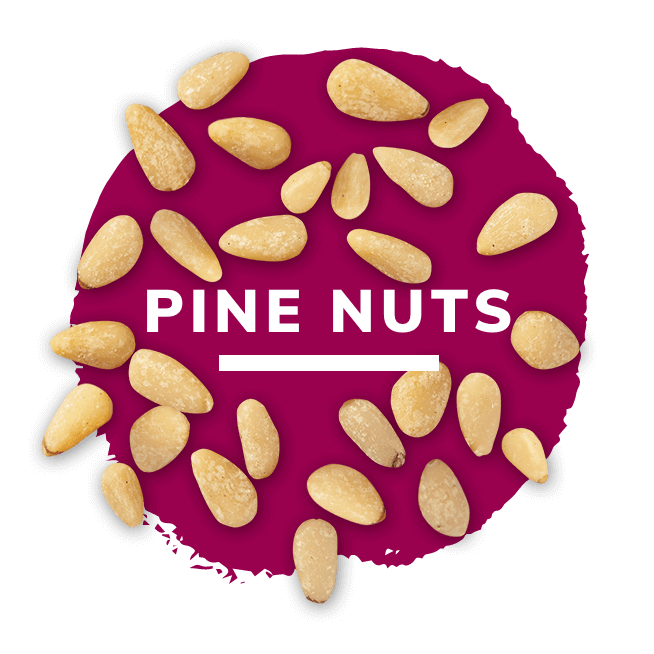 WANT FACTS ON PINE NUTS?
learn more