Recipe:
Pine Nut and Avocado Pesto with Toasted Pita Chips
Yield:

4 servings

Total Time:

5 minutes
Recipe courtesy of Nuts for Life (www.nutsforlife.com.au)
Ingredients
4 tablespoons pine nuts
2 cups fresh basil leaves
1 large avocado
1/4 cup lemon juice
2 tablespoons water
1/4 cup grated parmesan
Salt and pepper, to taste
2 pita bread and pine nuts, to serve
Instructions
Combine pine nuts, basil leaves, avocado, garlic and lemon juice in a food processor and pulse for 30 seconds or until combined. Add water and process until smooth.
Transfer pesto to a small bowl and stir in parmesan, season with salt and pepper.
Lightly coat 2 pita breads in olive oil and roast on an oven tray at 350°F until crisp and crunchy. Break up pita bread into bite size pieces.
Serve dip with pita pieces and additional pine nuts to top the dip.
Tip: Store in an airtight container or jar and keep in the refrigerator. Best used within five days.
nutrition facts
Based on 4 servings
Per serving:
Calories221
Total Fat22g
Saturated Fat4g
Sodium69mg
Total Carbohydrate1.5g
Dietary Fiber2g
Protein4.5g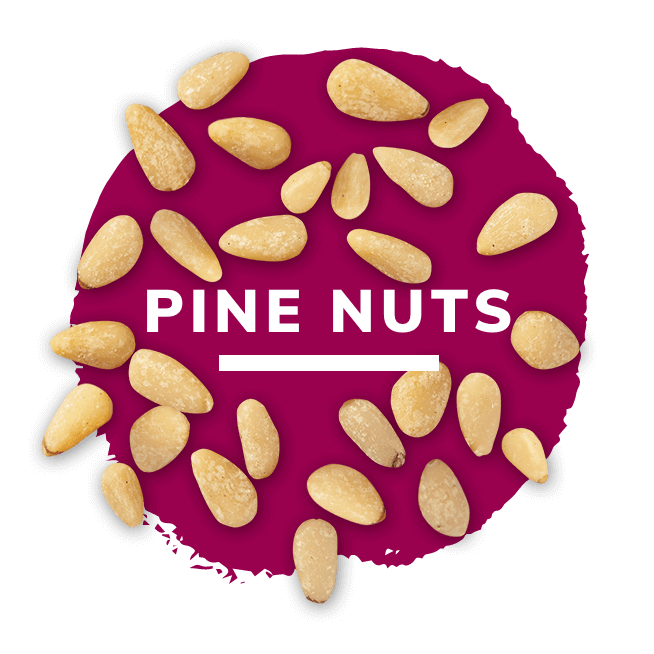 Want Facts on Pine Nuts?
learn more