Recipe:
Maple Baked Salmon with Chopped Almonds
DESCRIPTION
Maple and citrus blend together with salmon beautifully as a glaze, and the toasty almond crunch makes this dish a real treat. You could also use Halibut or other firm white fish.
INGREDIENTS
4 skinless, salmon fillets (each fillet should be about 3 ounces or 85 grams)
1/2 cup almonds, chopped coarsely
1/4 cup maple syrup
1/4 cup orange juice
2 tablespoons fresh, lemon juice
2 tablespoons light, soy sauce
2 cloves garlic, crushed
INSTRUCTIONS
Preheat the oven to 425º F.
Line an 8-inch square baking pan with parchment paper. Place the four salmon fillets in pan leaving 1/2 inch (1 cm) between pieces.
Chop the almonds by hand or use a hand held blender (it only takes a few seconds with a hand held blender). Distribute the chopped almonds evenly on top of the fillets.
In a small bowl, mix together the maple syrup, orange juice, lemon juice, soy sauce and crushed garlic.
Use a spoon to gently baste the marinade over top of each fillet.
Bake salmon for about 15 to 20 minutes or until fish is just done. While the fish is baking, baste top with marinade at least once or twice. When removing fish from the pan, leave the leftover marinade behind and discard.
Serve the fish with brown rice and a green salad or vegetables.
nutrition facts
Based on 4 servings
Per serving:
Calories260
Total Fat15g
Saturated Fat2.5g
Monounsaturated Fat7g
Polyunsaturated Fat5g
Cholesterol54mg
Sodium187mg
Carbohydrates11g
Dietary Fiber1g
Protein21g
Calcium45mg
Magnesium54mg
Potassium446mg
Vitamin E 2.3mg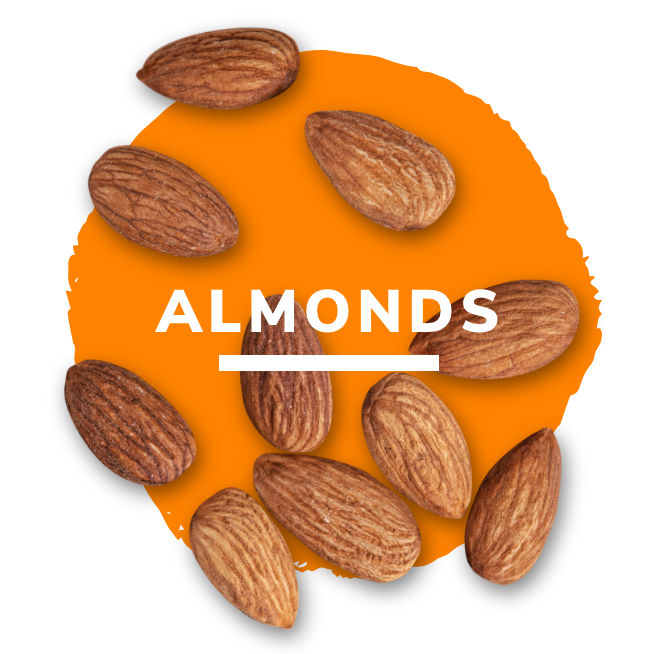 WANT FACTS ON ALMONDS?
learn more