Recipe:
Raspberry Almond Macaroons
DESCRIPTION
This isn't the all-American coconut macaroon with which many people are familiar. Instead, it's a lovely, light-as-a-feather French sandwich cookie, which starts with puffy wafers of ground almonds, confectioners sugar and egg white. This version is sealed with a rich, pink, raspberry-flavored buttercream.
INGREDIENTS
3/4 cup plus 2 tablespoons ground almonds*
1 1/2 cups confectioners sugar
3 large egg whites
2 tablespoons sugar
Raspberry Buttercream
1/2 cup (1 stick) room temperature unsalted butter
pinch of salt
1 tablespoon confectioners sugar
1 tablespoon seedless raspberry jelly
1/4 teaspoon vanilla extract
INSTRUCTIONS
Preheat oven to 300°F and line two baking sheets with parchment paper.
Combine ground almonds and confectioners sugar until very fine in a food processor.
In a medium bowl whisk egg whites until stiff but not dry. Add sugar, and whisk again until very stiff.
Using a rubber spatula, add one-third almond mixture to egg whites and gently fold in, leaving some streaks. Gently fold in remaining almond mixture by thirds.
Make a piping bag for the batter: Place a sturdy plastic storage bag into a tall water glass, folding its top back around the rim of the glass. Spoon batter gently into plastic bag. Remove bag from water glass and close, snipping a hole in one bottom corner. Use this piping bag to pipe 1-inch kisses onto baking sheets. Bake 18 to 20 minutes, turning pans halfway through baking or until set but not dried out. Let cookies cool completely, then remove from parchment paper with a small offset spatula. Sandwich cookies together with buttercream and serve, or store airtight for up to 2 days.
Raspberry Buttercream
Using a mixer, beat 1/2 cup (1 stick) room temperature unsalted butter with a pinch of salt until fluffy.
Add 1 tablespoon confectioners sugar, 1 tablespoon seedless raspberry jelly, 1/4 teaspoon vanilla extract, and beat until blended.
Store covered and refrigerated, and let come to room temperature before using.
nutrition facts
Based on 36 servings
Per serving:
Calories125
Total Fat8g
Saturated Fat3g
Monounsaturated Fat3g
Polyunsaturated Fat1g
Cholesterol14mg
Sodium11mg
Carbohydrates13g
Dietary Fiber0g
Protein2g
Calcium15mg
Potassium52mg
Vitamin E 1mg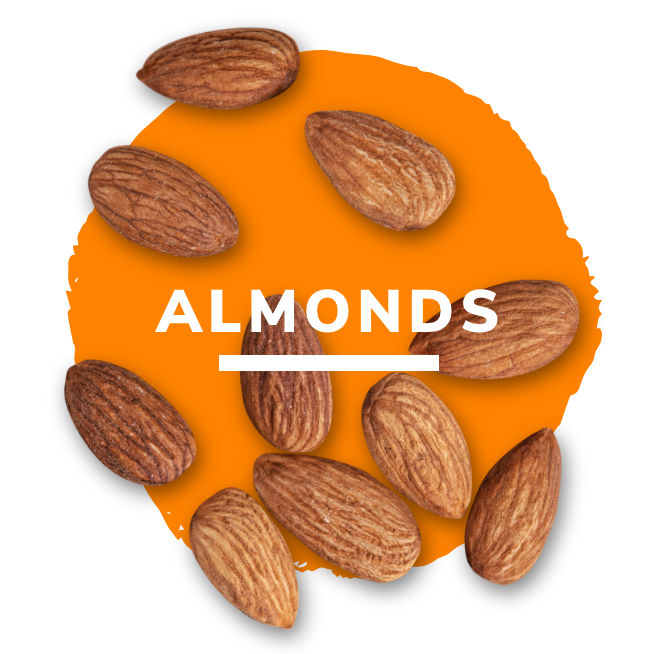 WANT FACTS ON ALMONDS?
learn more