Recipe:
Spicy Sriracha Almonds
DESCRIPTION
A spicy sauce made with chili and garlic, Sriracha brings a wonderful touch to almonds making them an exotic party treat.
INGREDIENTS
2 cups whole natural almonds
4 tablespoons sriracha
2 tablespoons soy sauce
1 tablespoon olive oil
2 teaspoons chili flakes
INSTRUCTIONS
Preheat oven to 300 degrees F.
Spread almonds in a single layer on a baking sheet lined with foil and bake for 15 minutes, stirring once halfway through.
Remove from oven (leave oven on) and allow to cool for 10minutes.
In a bowl, whisk together all ingredients except almonds; stir in almonds to coat evenly.
Return almonds to the foil-lined baking sheet in a single layer and bake again for 15 minutes, stirring once halfway through.
Remove pan from oven and if desired, sprinkle with a pinch of salt and extra chili flakes and allow to cool completely.
Store in an airtight container for up to one week.
nutrition facts
Based on 16 servings
Per serving:
Calories113
Total Fat10g
Saturated Fat1g
Monounsaturated Fat6g
Polyunsaturated Fat2g
Cholesterol0mg
Sodium185mg
Carbohydrates5g
Dietary Fiber2g
Protein4g
Potassium134mg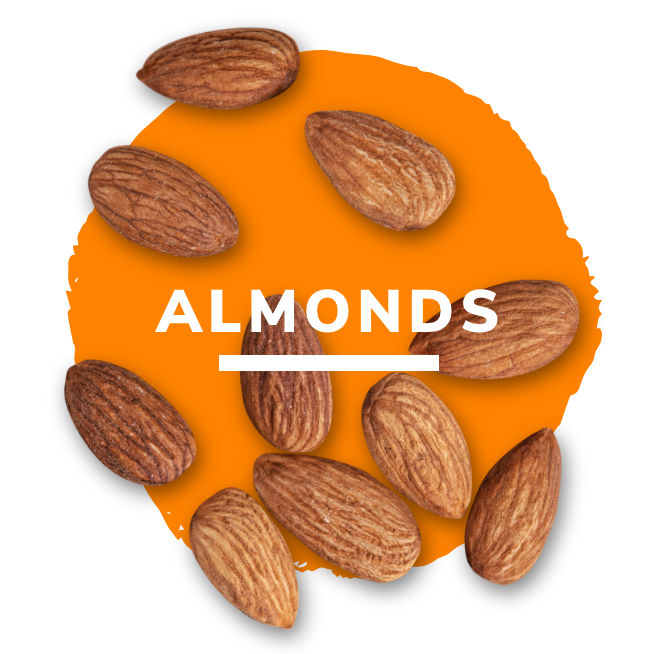 WANT FACTS ON ALMONDS?
learn more