Recipe:
Vegetarian Spiced Pecan Taquitos
Yield:

20

Total Time:

35 minutes
Description
Blogger Liz Moody shares a fun, flavorful spin on an all-time party favorite, Vegetarian Spiced Pecan Taquitos.
Ingredients
2 cups pecan pieces, finely chopped
1 tablespoon olive oil and more to brush tortillas
3 cups fresh or frozen cauliflower rice
2 tablespoons chili powder
1 teaspoon ground cumin
1/4 cup tomato paste
3/4 cup water
2 teaspoons garlic powder
2 teaspoons onion powder
1 teaspoon fine grain sea salt
3 cups shredded cheddar
20 small corn tortillas
Salsa, sour cream, or other condiments of choice
Instructions
Preheat oven to 425F.
In a skillet over medium heat, warm with a drizzle of olive oil.
Add the cauliflower rice and sauté until brown at edges, about 5 minutes.
Add the chopped pecan pieces, chili powder, and cumin and toast until fragrant, 1-2 minutes.
Add tomato paste, water, garlic powder, onion powder, and salt, and stir until well combined and warmed through.
Warm tortillas in the oven until pliable, about 30 seconds.
Add a thin line of pecan mixture down one side of the tortilla, followed by a sprinkle of cheese.
Roll tightly and place seam-side down on a parchment-lined baking sheet.
Brush with olive or avocado oil to lightly coat the side facing up and bake for 15-20 minutes, until golden at edges.
Serve with salsa, sour cream, or condiments of choice.
nutrition facts
Based on 10 servings
Per serving:
Calories190
Total Fat15g
Saturated Fat4g
Sodium280mg
Carbohydrate11g
Dietary Fiber2g
Protein6g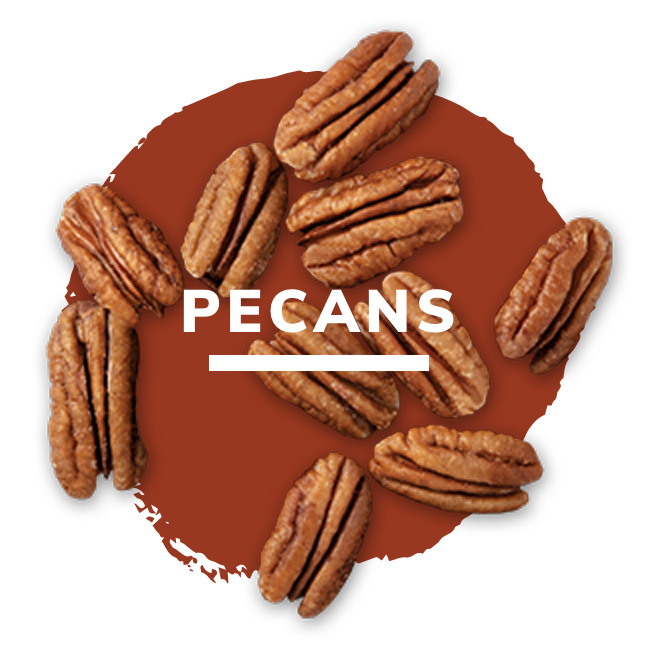 Want Facts on Pecans?
learn more