Recipe:
Field Mushrooms with Brazil Nuts and Ricotta
Yield:

4 servings

Total Time:

30 minutes
Recipe courtesy of Nuts for Life (www.nutsforlife.com.au)
Ingredients
7 ounces raw Brazil nuts, chopped
1 clove crushed garlic
12 ounces low fat ricotta
2 teaspoons finely grated lemon rind
¼ cup chopped flat leaf parsley
2 tablespoons grated parmesan
cracked black pepper to taste
4 large field mushrooms
Instructions
Preheat oven to 400°F.
Place the Brazil nuts, garlic, ricotta, lemon rind, parsley, parmesan and pepper in a large bowl and mix together until fully combined.
Clean the mushrooms and remove the stems.
Divide the ricotta mixture between the mushrooms, piling in the center cavity of each.
Transfer the mushrooms to an oven tray lined with foil. Bake for 15 minutes or until mushrooms have softened and ricotta mixture is golden on top.
nutrition facts
Based on 4 servings
Per serving:
Calories464
Total Fat40g
Saturated Fat11g
Sodium250mg
Total Carbohydrate4g
Dietary Fiber5g
Protein20g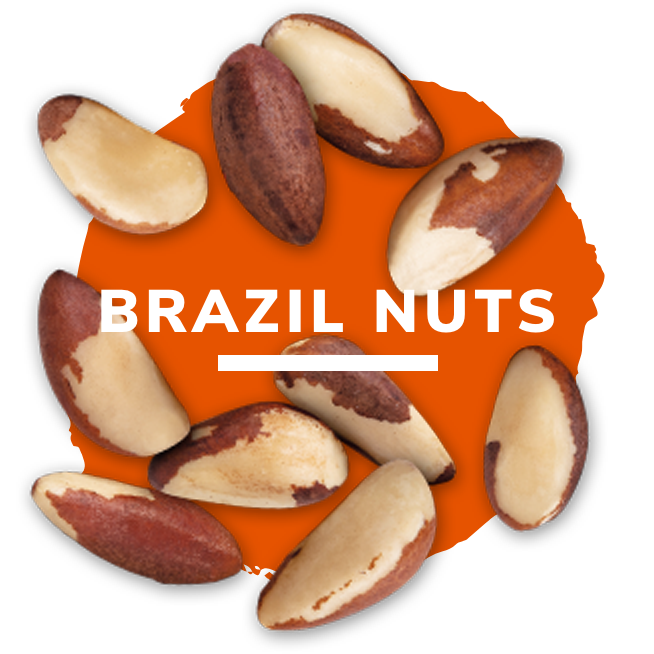 Want Facts on Brazil Nuts?
learn more