Recipe:
Wild Mushroom, Brazil Nut and Sage Pasta
DESCRIPTION
The Italians are renowned for incorporating nuts into pasta, whether pesto or a nut and breadcrumb, parmesan crumble. Often meals in Italy won't have meat, and the addition of nuts in a vegetable pasta adds protein and lots of other valuable nutrients. The key is finding the right nut for the right vegetable – Brazil nuts are wonderful with mushrooms, peas, cauliflower, broccoli and so much more. Discover your own perfect match!
INGREDIENTS
1 pound preferred pasta (fettuccini, pappardelle, tagliatelle or other long flat pasta are best)
Olive oil
½ cup coarsely chopped Brazil nuts
4 sprigs sage, leaves sliced, saving 4-6 whole
¼ cup grated parmesan cheese
Zest and juice of ½ lemon
1 large or 2 small shallot, diced
14 ounces wild mushrooms – chanterelle, maitake, oyster, etc.
INSTRUCTIONS
Cook pasta according to directions on packet. Drain and toss through a little olive oil.
Clean the mushrooms and tear into large pieces.
Heat a large fry pan over medium high and add the Brazil nuts. Toss a few minutes to just brown (you'll smell them becoming aromatic). Transfer to a bowl and toss with the chopped sage, parmesan and lemon zest. Set aside.
Heat a splash of oil in the same pan and fry the whole sage leaves for a few seconds until crisp, it happens quickly. Place on a paper towel.
Add the shallot to the sage scented oil in the pan and cook over medium heat for 1 minute until just softening.
Add the mushrooms and turn heat to high. Cook, stirring till mushrooms start to soften, 4-5 minutes. Add lemon juice and toss through.
Add pasta and Brazil nut mixture and mix until just warmed through adding a little splash of wine if mix is dry.
Serve while still hot, with a crispy sage leaf.
nutrition facts
Based on 4 servings
Per serving:
Calories640
Total Fat19g
Saturated Fat4g
Cholesterol5mg
Sodium125mg
Total Carbohydrate97g
Dietary Fiber6g
Total Sugars7g
Protein20g
Vitamin D5mcg
Calcium103mg
Iron8mg
Potassium697mg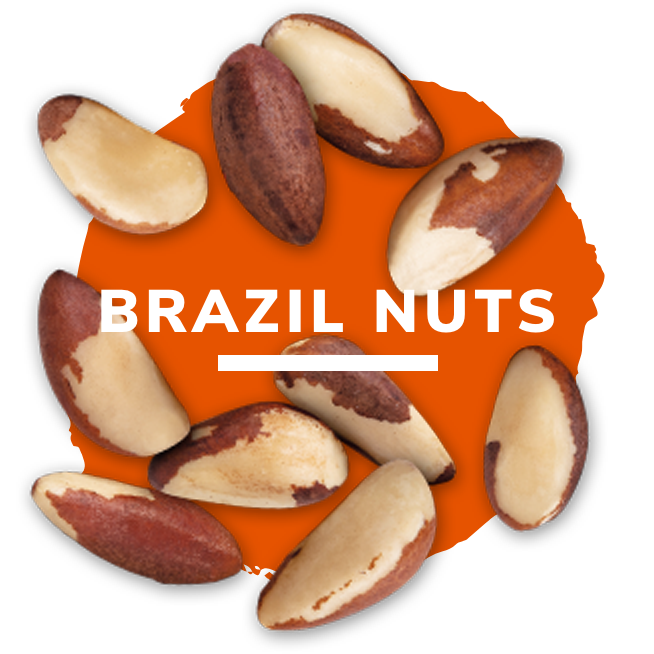 WANT FACTS ON BRAZIL NUTS?
learn more