Cashews

A 1-ounce serving of cashews provides:
Dietary Fiber
1 gram of fiber: 4% of the Daily Value
Protein
4 grams of plant-based protein
Healthy Fats
13 grams of total fat: 62% is from monounsaturated fat and 15% from polyunsaturated fat
Nutrient-Dense
Excellent source of copper and magnesium
Good source of iron, manganese, phosphorus and zinc
Sodium-free
Looking for tips and tricks?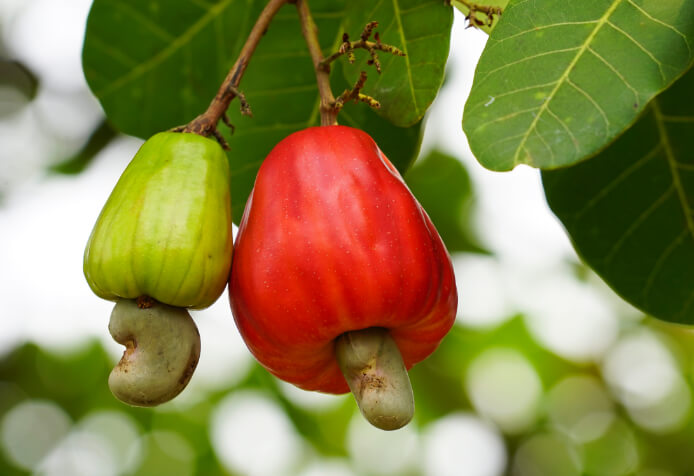 CASHEW NUTRITION FACTS
Serving Size: 1 oz. (28.35g) Approx 18 kernels**
Amount Per Serving
Total Fat 13g

17%

Saturated Fat 3g

15%

Polyunsaturated Fat 2g

Monounsaturated Fat 8g

Cholesterol 0mg

0%

Sodium 5mg

0%

Total Carbohydrate 9g

3%

Dietary Fiber 1g

4%

Protein 4g
Vitamin D 0mcg

0%

Calcium 13mg

0%

Iron 1.7mg

10%

Potassium 160mg

4%

Vitamin A 0mcg

0%

Vitamin E 0.26mg

2%

Vitamin B6 0.07mg

4%

Phosphorus 139mg

10%

Vitamin C 0mg

0%

Thiamin 0.06mg

4%

Folate 20mcg

4%

Magnesium 74mg

20%

Selenium 3.3mcg

6%

Manganese 0.23mg

10%

Zinc 1.59mg

15%

Copper 0.65mg

70%
*The % Daily Value (DV) tells you how much a nutrient in a serving of food contributes to a daily diet. 2,000 calories a day is used for general nutrition advice.
**Cashews are unsalted and unroasted.
History
Cashews are believed to have originated in the northeast of Brazil, near the Equator. It is likely that Spanish sailors first introduced the cashew to Central America in the sixteenth century.
Later, Portuguese colonists brought cashews to territories in East Africa (Mozambique) and India (Goa), where its cultivation extended to Indonesia and the Philippines.
The cashew fruit consists of two distinct parts: a fleshy stalk in the form of a pear – also called the cashew apple – with a brilliant yellow or red skin that can measure from 5 to 10 cm; and a gray-brown colored nut (the cashew) in the shape of a kidney, which hangs from the lower end of the stalk or "apple."
Today the principal producing countries of cashews are India, Brazil, Vietnam and Mozambique. Juices, syrups, preserves, wine or liquors are obtained from the stalk or "apple." However, the main commercial use is the cashew nut itself. Cashews are marketed in the shelled, roasted and salted forms for use as a snack and as an ingredient (delicacies, chocolate, etc.)
More Tree Nuts
Tree nuts are nutrient-dense whole foods that are rich in unsaturated fats and contain protein, fiber and important vitamins, minerals and phytochemicals.